The FLUX price surged to a four-week high on Friday after the coin debuted on the worlds largest cryptocurrency exchange.
Flux (FLUX) is bucking the trend today and is one of the few mainstream cryptocurrencies firmly in the green. Even though Bitcoin is leading the crypto market lower, the decentralised cloud computing project has seen a rush of buying today as investors welcome the finance listing. However, the rampant rally has failed to hurdle last month's all-time high. And as a result, the FLUX price has pulled back around 20% from today's $2.90 peak. Nonetheless, Flux is climbing up the charts and close to becoming a top 100 crypto. However, the parabolic rally has left the price looking stretched, which may indicate an imminent reversal.
Technical Analysis
The 4-hour chart highlights today's parabolic rally. Notably, the price has broken out of a descending flag pattern. Subsequently, the top of the flag at $1.930 is the first level of support. And as long as FLUX remains above the flag, the coin's prospects look good. However, the Relative Strength Index of 77.0 leaves Flux vulnerable to a correction.
Considering the extreme bullish momentum, Flux may squeeze higher from here. However, the volatility is likely to remain elevated. On that basis, buying the FLUX coin at the current level is incredibly risky. Therefore, I will reserve judgement until the price action normalises.

FLUX Price chart (4-hour)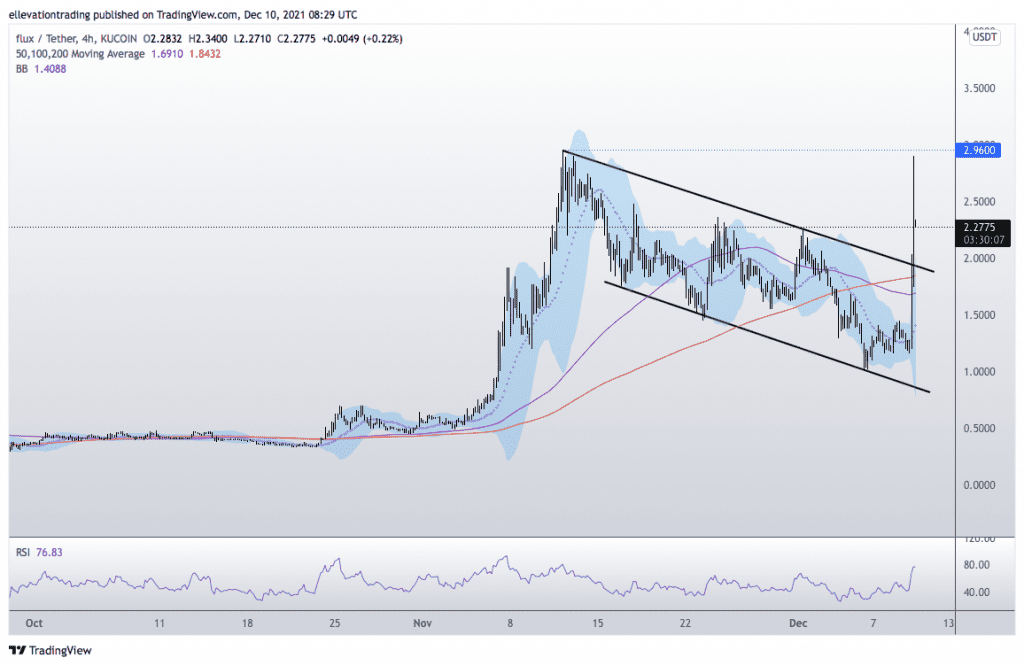 For more market insights, follow Elliott on Twitter.