The emergence of an evolving bull flag on the Filecion daily chart is exciting the market and could favour bullish Filecoin price predictions. The FIL/USDT pair has made a bullish start to the day with a 0.83% uptick. This comes close on the back of Sunday's 6.25% gain as the cryptocurrency market experienced a bounce. Limiting a further advance on the pair is the 25.9188 resistance, which must step aside to complete the flag pattern.
The decentralized file storage solution project appears to be marching on steadily on the fundamental front. The storage capacity has grown to 16,000 PiB ahead of the launch of the Filecoin Virtual Machine (FVM) later this year, according to data released by Filecoin and MessariCrypto. There has also been a 3-fold increase in the number of projects on Filecoin.
The latest picture in the cryptocurrency market shows a slow recovery in place and is an indication that users may have started to load up ahead of the launch of several Web 3.0 projects. A new survey done by US-based crypto exchange Gemini reports that in 2021, the number of new cryptocurrency owners grew due to soaring inflation and generalized devaluing of fiat currencies.
Filecoin Price Prediction Outlook
The daily chart on the FIL/USDT pair shows an evolving bullish flag pattern that is challenging the resistance at 25.9188 (10 January low and 8 February high). The active daily candle is testing the resistance at 25.9188. There must be a 3% penetration close above this resistance to complete the flag and open the door for a measured move that targets the 32.1865 resistance. 40.0634 (13/28 December 2021 highs) is the additional northbound target that comes into the picture if the price advance exceeds the completion point of the measured move.
On the flip side, rejection at 25.9188 puts the flag in danger. If there is a decline following this rejection, the 1 February/1 March highs at 21.6793 form the immediate pivot to the south. Below this new pivot lies the 24 January/15 March low at 16.6322. This scenario invalidates the flag as well.
FIL/USDT: Daily Chart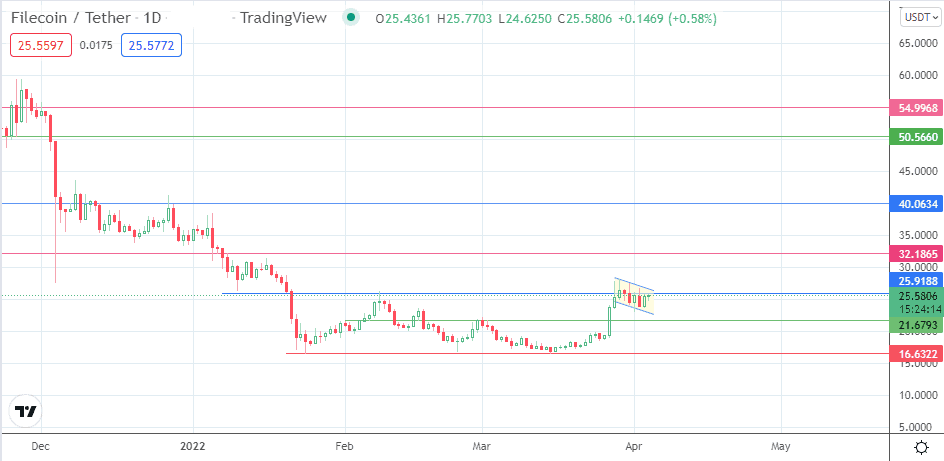 Follow Eno on Twitter.