The fear and greed index has turned neutral after signaling greed for the past couple of weeks. The tech earnings report was supposed to be the main driving factor for the markets this week. However, the banking concerns took the driving seat once again as the First Republic Bank reported a 40% decline in its deposits.
According to the regional lender, its deposits fell by $100 bn during the first quarter of 2023. The news reignited the banking concerns that started after the collapse of the Silicon Valley Bank and the Signature Bank. The First Republic Bank's stock fell by nearly 30% on the news. The fear & greed index currently stands at 51.
S&P 500 & Nasdaq Show Signs Of Weakness
After recovering from their March lows, the benchmark indices of US equities are facing headwinds once again. The S&P 500 Index and the NASDAQ 100 Index are down 1.88% and $1.49 since the start of this week. The tech earnings report created a positive sentiment in the market, but it almost got completely offset by the growing banking concerns.
The fear and greed index started the week at the 63 level, which was a signal of 'greed' in the markets. However, the index kept falling as the week progressed and turned natural. The downtrend in the major indices and the ongoing banking crisis were the catalysts behind this shift.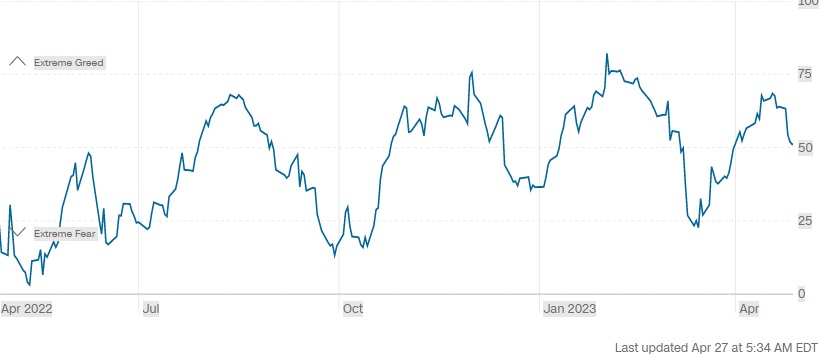 Fear & Greed Index indicators
The fear & greed index consists of 7 different indicators which collectively depict the broader sentiment of the markets. According to CNN, 3 out of 7 indicators are still signaling 'Greed'. These indicators include Market Momentum, Stock Price Strength, and Stock Price Breadth.
However, Market Volatility, Put/Call Raion, and Safe Haven Demand currently stand 'Neutral'. Only 1 indicator is showing 'Extreme Fear' in the market, which is the Junk Bond Demand. This is due to the wider junk bonds vs investment grade spread, which shows that investors are more cautious in taking a high risk.