The stock market fear and greed index is still pointing towards extreme greed in the markets. The index consists of seven different indicators which monitor different aspects of the economy. Considering the current state of these indicators, the US stock market look overheated.
Historically, the CNN fear and greed index has acted as a good indicator to depict the sentiment of the market. When the markets become too greedy, usually it's time to take some profits and avoid entering into new positions.
NASDAQ 100 Index Hits Key Resistance
A look at the NASDAQ 100 index, which consists of major tech stocks, shows that the index has reached a strong resistance level of 15,200 points. This resistance level has resulted in multiple rejections in the past. The ongoing rally in tech stocks also appears to be overextended and needs to cool down. This suggests it is appropriate to expect a pullback within the next few weeks.
The CPI data for June 2023 is going to be released on July 12. This data may affect the outcome of the upcoming FOMC meeting on 25-26 July. Both of these events will keep the valuations of US stock in check in the coming weeks. The fear and greed index is showing that the markets remain optimistic about a decrease in inflation.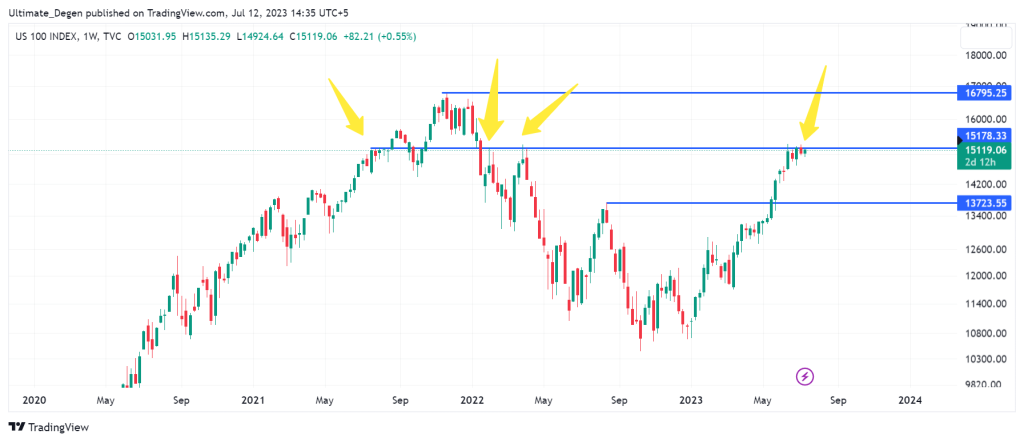 Fear & Greed Index Indicators
Out of the seven indicators of the index, currently, six indicators are signaling either 'Greed' or 'Extreme Greed' in the markets. The greed in the markets is also quite evident on social media. While the markets are not as euphoric as in 2021 but it is still plausible to believe that a top formation could be on the cards.
The only indicator of the fear and greed index, which is still 'Neutral', is the MARKET VOLATILITY. The indicators which show 'Extreme Greed' include MARKET MOMENTUM, STOCK PRICE STRENGTH, STOCK PRICE BREADTH, and PUT AND CALL OPTIONS.
In the meantime, you are also welcome to follow me on Twitter to keep track of my personal trades and the latest analysis on US & UK equities.