On Monday, the Fantom price surged to a new record of $2.947 and a $7.4 billion market capitalization in early Asian trading. Layer-one Blockchain Fantom (FTM/USD) has registered yet another record high this morning as belief grows that it will one day fulfil its potential as a bonafide rival to Ethereum (ETH/USD).
Fantom is gaining in popularity in the decentralized finance (DeFi) arena. The blockchain is attracting projects and capital and is currently the 7th most utilized Defi blockchain, with Total Value Locked (TVL) assets of $4.86 billion. As a result of Fantoms' growing ecosystem, the FTM token is climbing up the charts. FTM is currently the 28th-largest cryptocurrency and is closing in on the 27th-placed FTX Token (FTT/USD). However, considering the impressive scale of adoption, some are calling for Fantom to climb even higher up the rankings. Whilst it's too early to know if Fantom will assert itself as a market-leading player, it's hard to argue against it, given the impressive performance of the Fantom price.
FTM price Forecast
The daily chart shows the FTM token has considerable bullish momentum. Notably, the buying accelerated when Fantom cleared the former all-time high at $2.6800 on Sunday. Encouragingly, after removing the resistance, the FTM token pulled back to test the level as support. Following the successful test, the Fantom price surged to $2.947, cementing the former resistance as support. Whilst $2.6800 is the first level of support, I consider the former ATH at $2.4466 more significant. As long as FTM holds $2.4466, its bullish run should continue. How high Fantom reaches is hard to say, but taking into account the pace of the rally, $3.500 seems achievable.
Although the technicals look great (they often do near a top), investors should bear in mind the Fantom price has gained 1,800% since July. And on that basis alone, buying FTM tokens at the current level is a risky business. Furthermore, the Relative Strength Index is 72.8, signalling the price is getting stretched. Therefore, we may be close to a near-term top. Nonetheless, the momentum is encouraging, and the price looks likely to extend further in the immediate future. Therefore I hold a cautiously bullish view, with a $3.5000 price target which becomes invalid below $2.4666.
Fantom Price Chart (daily)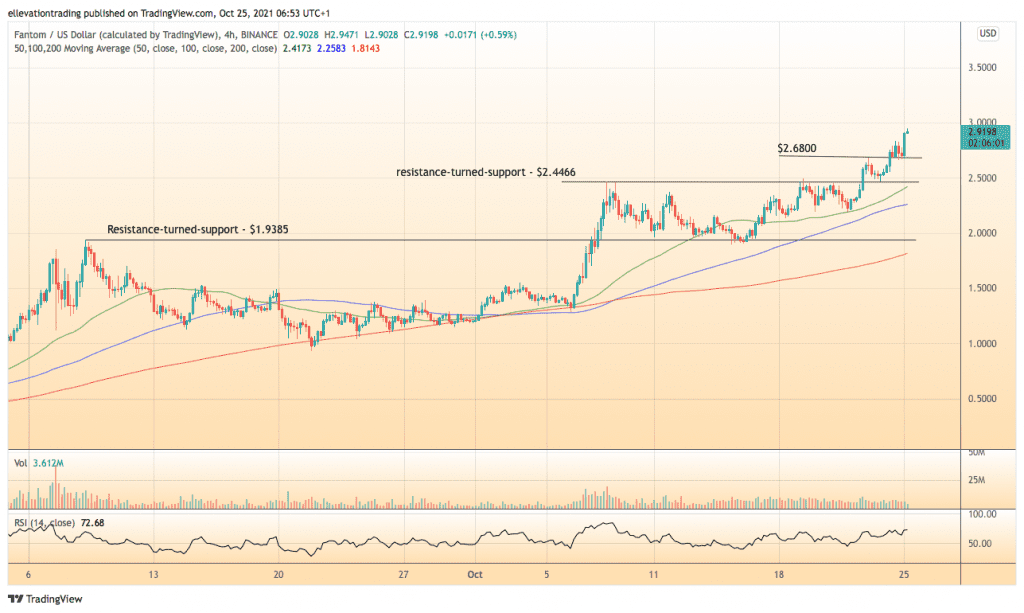 For more market insights, follow Elliott on Twitter.