The Evraz share price is up 43% this Monday, after the appointment of a new CEO for its Raspadskaya Coal Company subsidiary. Ilya Shirokobrod is to take up the company's reigns with effect from 4 April. The move comes amid mass resignations at several London-listed Russian companies, including Evraz. In a statement on Monday, the steelmaker confirmed the exit of a non-executive director at the company.
The Evraz share price collapsed last week on the FTSE 100 after Western sanctions against Russian companies triggered a massive dump of the stock by investors. From a high of 600p on 10 January, the Evraz share price tanked to a low of 50.50p on 4 March after eight weeks of relentless selling. Last week, the most significant loss occurred when the stock lost 70% of its value on the FTSE 100.
Following this loss, Monday brought with it some bargain hunting. The stock was up nearly 52% at a point but has shed some of these gains as traders who bought into the stock at bargain prices cash out for quick profits.
Evraz Share Price Outlook
The sentiment on the stock remains bearish, and any gains are merely rallies that could bring up cheaper areas to short the stock. The intraday bounce came off lows last seen in the last week of January 2016 and is now targeting the 109.86 resistance (15 December 2014 and 31 May 2016 lows). A break above this level aims for 180.52 (15 August 2016 high).
If the price faces rejection at any of these areas, renewed selling will ultimately target 58.22 (25 January 2016) and Friday's low of 50.50. If the latter fails to withstand bearish pressure, a breakdown occurs and sends the Evraz share price to new lows.
Evraz: Weekly Chart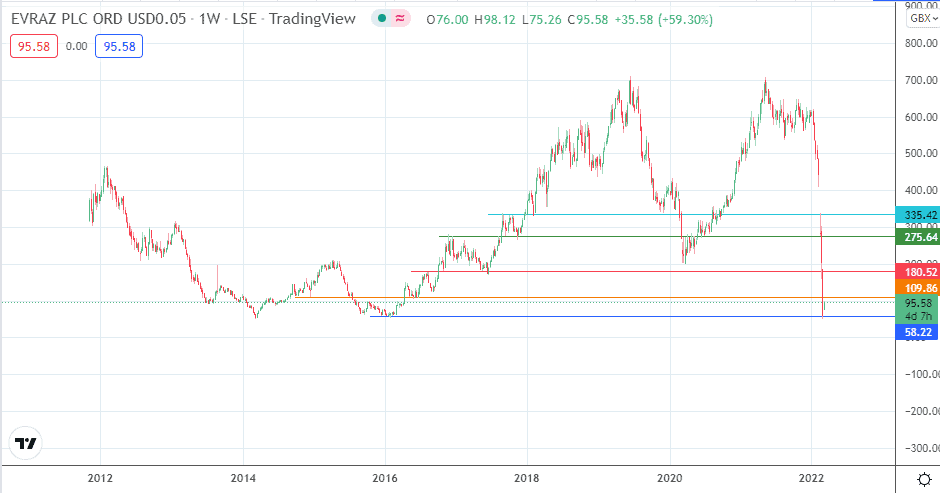 Follow Eno on Twitter.