The Eurasia Mining share price surged 59.7% on Friday after the company said its operations were unaffected by the sanctions placed on Russia by the UK, US and EU. Western nations have imposed sanctions on Russia following its attack on Ukraine. The Eurasia share price had fallen 48% on Thursday to mark four days of losses, as Russian forces invaded Ukraine.
Eurasia Mining's gold and platinum mining operations are heavily Russia-centered. First, the company holds a joint venture agreement with Rosgeo, a Russian geological firm. Additionally, it has a cooperation agreement with the state-owned Far East and Arctic Region Development firm. However, the company said it had no relationships with or bank accounts in the Russian financial institutions targeted by the sanctions.
Despite the surge in its shares on Friday, Eurasia Mining's share price will still close the week at least 32% lower. This is due to the selloff of its shares witnessed earlier in the week. Also, this week's drop means that the share price has fallen six weeks in a row.
Eurasia Mining Share Price Outlook
The bounce has encountered resistance at the 14.235 price mark (27 January/31 August 2021 lows). The bulls need to surmount this price barrier to take the price activity towards 19.105. 23.070 and 28.955 are additional targets to the north and will only become available on solid bullish action.
On the flip side, rejection at the 14.235 resistance barrier could allow the bears to force a retest of 8.685. Below this level, previous highs of 27 December 2019 and 22 January 2020 at 4.040 become the next target to the south.
Eurasia Mining: Daily Chart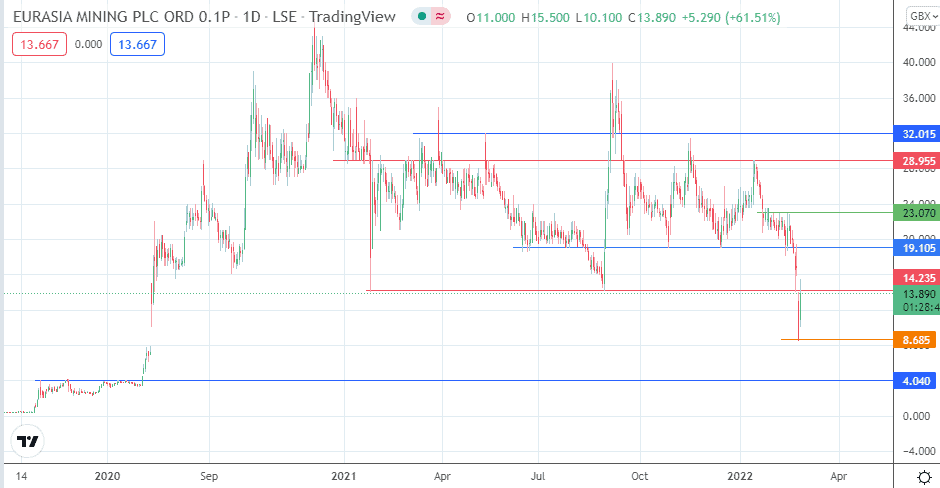 Follow Eno on Twitter.