The EUR/USD exchange rate's remarkable collapse gained steam in the overnight session. It dropped to a two-decade low after the Federal Reserve hinted to more pain and after Putin raised the stakes for his war in Ukraine. It crashed to a low of 0.9820, meaning that the euro has plummeted by more than 10% this year.
Fed decision and Putin
The two main catalysts for the EUR to USD exchange rate were the Federal Reserve and Vladimir Putin. In its monthly meeting, the Fed decided to hike interest rates by another jumbo 0.75% as its battle against inflation continued. Notably, the dot plot hinted toward more rate hikes in the coming months. Precisely, it showed that the bank will likely increase rates by another 0.75%.
The bond market is also signaling that the Fed will indeed keep hiking interest rates. Bond yields surged to the highest level in years with the 2-year yield rising to 4.1% for the first time since the Global Financial Crisis (GFC) of 2008. The 10 and 30-year bond yields also continued rising.
Meanwhile, the EUR/USD price also reacted to a statement by Vladimir Putin. In a statement, he said that there will be a mobilization effort as the military seeks more than 300k new recruits. This is a sign that the war in Ukraine will continue going on for a while, which will hurt the European economy. The ECB has also ratcheted up its hawkish rhetoric.
EUR/USD forecast
The EURUSD price has been in a strong bearish trend in the past few months. This week, the pair made a spectacular bearish breakout as it moved below the lower side of the bearish flag pattern that is shown in black. It then collapsed below the key support level at 0.9865, which was the lowest level this year. It has moved below all moving averages while the awesome oscillator points to more pain ahead.
Therefore, the pair will likely continue falling as sellers target the next key psychological level at 0.9700. A move above the resistance point at 0.9865 will invalidate the bearish view.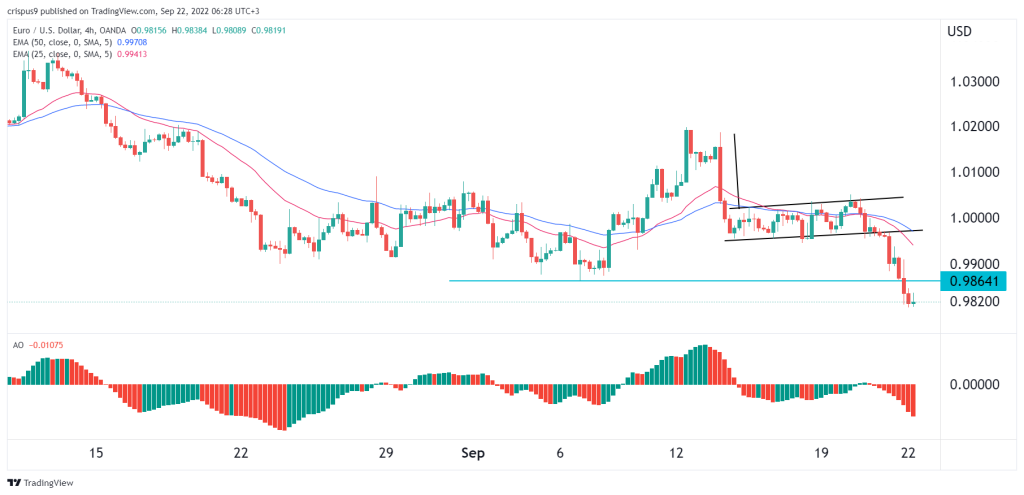 EUR to USD S&R levels
InvestingCube's S&R indicator is a highly-accurate tool that provides signals across all financial assets. Developed two years ago, it has a success rate of over 85%. You can subscribe to the indicator for a small monthly fee. According to the S&R, the indicator has a bearish outlook on the EUR/USD pair as shown below.