Ethereum price (ETHUSD) is lagging behind Bitcoin in the ongoing rally. The recent surge of BTC above the $28,000 level is a breath of fresh air for troubled crypto investors. Many analysts are still being conservative in calling it a bull market as the ETH price is yet to break the $2000 barrier.
On Tuesday, Eth to USD price showed strength as the price gained 1.5%. At press time, the native asset of the Ethereum blockchain was trading at $1756. ETH price is 28% up from its monthly low of $1,367. The next big resistance lies at $2,030.
Ethereum Depreciates In Terms Of Bitcoin
Bitcoin is the biggest beneficiary of the ongoing issues with the banks. The lack of trust in the global financial system has worked in favor of Bitcoin's narrative. Consequently, more and more money is flowing into Bitcoin from traditional markets. Even though Ethereum price has also shown positive price action during this time, it has still depreciated in terms of Bitcoin.
In the last ten days, ETH has lost 14.5% in its BTC pair. ETH/BTC chart suggests that there is still a lot of downside for Ethereum as the next support is still far below the current price. Most alcoins are also showing a similar price action suggesting that the capital is moving to Bitcoin. Nonetheless, as long as the Bitcoin price consolidates, an altcoin rally can be expected.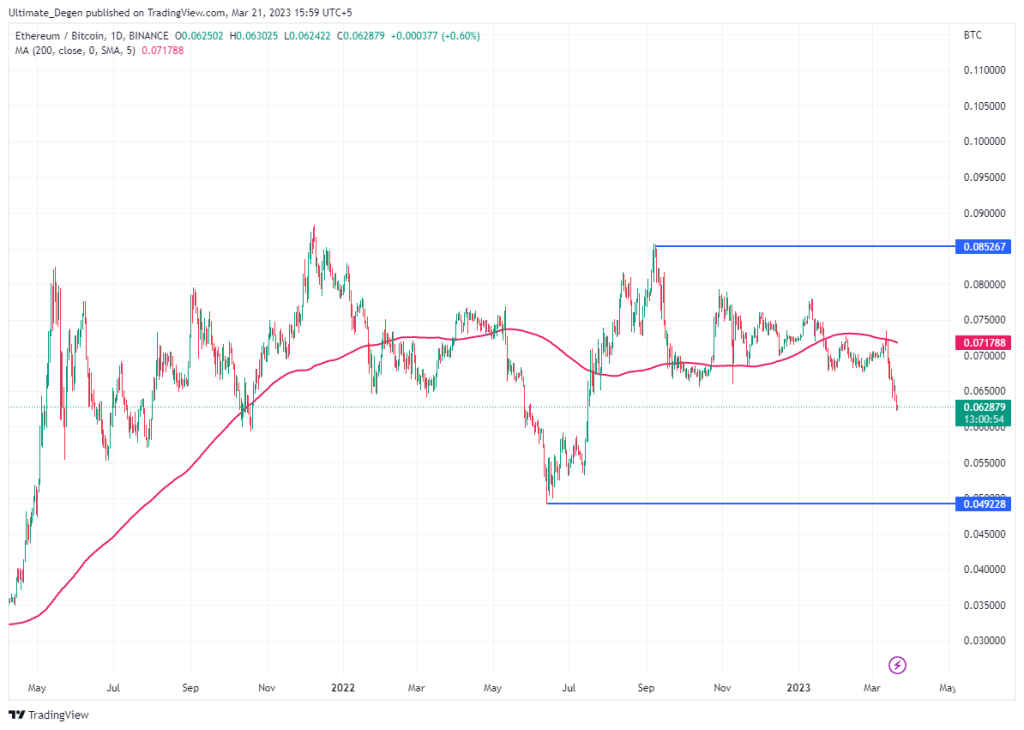 Ethereum Price Fails To Break Above $1780
ETH to USD chart shows that the leading cryptocurrency still needs to break above the key resistance of $1780. Even though the price has retested this level in the past couple of days, it couldn't close above. A reclaim of this level can put an Ethereum price prediction of $2,000 on the cards.
According to our technical analysis, ETH can tank very hard if Bitcoin gets rejected from the $28,000 level. The downtrend in ETH/BTC pair can potentially tank Ethereum much more against Bitcoin if the market reverses from here. Therefore, it is better to wait for BTC consolidation.