Just days after the bankruptcy of Silvergate Bank, a much bigger industry giant, Silicon Valley Bank Financial Group has collapsed. The fall of the FDIC-insured Silicon Valley lender came as a shock to many as its stock NASDAQ: SIVB made an all-time high in 2021.
On Friday, the SVB Financial Group's stock tanked 66% in pre-market before the trading was halted. This triggered a wave of panic in the market as other major banks also saw a huge sell-off in their equities. Consequently, the SPDR S&P Regional Banking ETF also slid by 4.74% on the day. Most tech stocks also dipped to their lowest levels of the week as the investors aligned themselves for an economic slowdown in Silicon Valley.
What Happened To Silicon Valley Bank?
In order to protect the depositors, the regulars shut down the Silicon Valley Bank, transferring the receivership to FDIC. The latter then immediately created the Deposit Insurance National Bank of Santa Clara (DINB). This was done to protect the depositors by transferring their assets to DINB.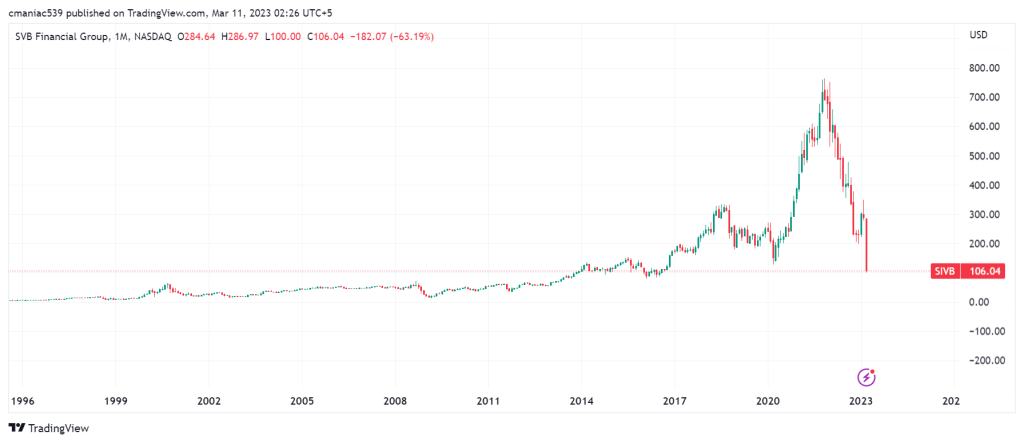 The collapse of the SVB Financial Group occurred after it had to force-sell its AFS securities at a 1.8 billion loss. The assets that primarily included Treasury and Mortgage Backed Securities (MBS) were worth around 21 billion. According to details, the bank was struggling to gain deposits as the Startup industry was having cashflow issues.
Depositors With $250,000+ To Get Access From Monday
According to FDIC, the standard insurance amount per depositor is $250,000. This would mean that depositors with $250,000+ will be able to carry out their banking transactions through DINB starting from Monday.
Customers with accounts in excess of $250,000 should contact the FDIC toll–free at 1-866-799-0959.

FDIC Press Release
On the other hand, the uninsured depositors will be initially given a dividend within a week, along with a receivership certificate for the remaining amount. The announcement of the establishment of Deposit Insurance National Bank of Santa Clara was made by an official press release by FDIC.
Nevertheless, NASDAQ: SIVB remains delisted in accordance with Nasdaq rules. Considering the last trading day of the Silicon Valley Bank stock, the asset fell 60%. This was before the price fell another 66% in the pre-market hours of the next day.