The Ethereum price came within $10 of equalling Mays $4,384 record last week before sliding 11% to $3,885 in the next 24 hours. As a result, unless Ethereum (ETH/USD) sets a new all-time high shortly, a bearish double-top pattern will form on the daily chart.
Ethereum underperformed Bitcoin for the majority of this month. The launch of the ProShares Bitcoin ETF last week spurred buying of BTC, which sucked liquidity from the rest of the market. As a result, Bitcoin surged to a record of $66,999 on the 20th of October, whilst ETH was grappling with $4,000. However, on the 21st, roles reversed, and BTC slid 6% as the Ethereum price burst through $4,000. ETH reached a high of $4,375 but lost momentum and finished the day at $4,050. Despite the setback, Ethereum still looks incredibly strong technically. Furthermore, after crashing to $59,500 this morning, Bitcoin has recovered $2,500, which should provide a tailwind for Ethereum.
ETH Price Forecast
The daily chart highlights a considerable band of resistance between $4,180 (the highest ever daily close) and the all-time high of $4,384. Despite the initial rejection at the ATH, Ethereum is holding its three-week uptrend and applying pressure to the $41,80 resistance this morning. Successful clearance of $4,180 should lead to another test of the ATH. If the Ethereum price advances beyond $4,384, it should attract momentum buying as the bulls target the elusive $5,000 level. However, if ETH fails to make a new high and loses trend support, it will play into the hands of the bears.
The immediate danger for Ethereum is if it drops below the rising trend line, which aligns up with a series of highs on September around $4,000. In that event, the bears could be encouraged to push the price down to support at $3,600. If that scenario plays out, it will leave a bearish double-top in its wake. On that basis, how Ethereum performs in the next day or two is crucial to its prospects. I remain bullish on ETH overall, although nervously, below $4,384. Until ETH reaches a new high, the double-top remains in place, which is concerning. Therefore, I prefer adding into strength above $4,384, with a stop loss below $4,180, to take advantage of the bullish momentum a new high should bring.
Ethereum Price Chart (daily)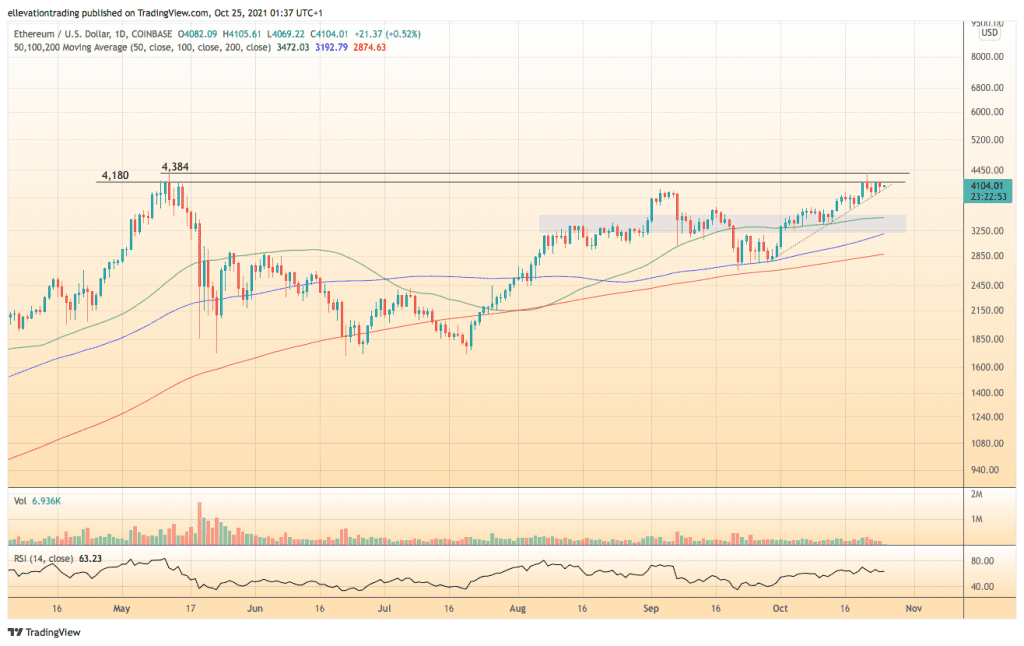 For more market insights, follow Elliott on Twitter.