There have been no significant changes to my Ethereum Classic price prediction. The recovery in the Ethereum Classic price has not happened, and Tuesday's brief recovery in the cryptocurrency market was shortlived.
Following Wednesday's 4.9% uptick, the ETC/USDT pair is down 5.10% as of writing this Thursday. The pair remains up by 0.3% on the week, but the bullish momentum remains weak, and the pair looks vulnerable at current levels.
The evolving symmetrical triangle on the daily chart presents two possibilities. There could be a continuation of the downtrend following the triangle's resolution or there could be a reversal if the bulls initiate a strong charge to the north, with the latter occurring in less than 20% of cases.
The Ethereum Classic price prediction covers price activity for the next one week as the triangle moves towards resolution.
Ethereum Classic Price Prediction
The ETC/USDT pair is trading within the confines of a symmetrical triangle. If the expectation is for price continuation, then the bears would expect the pullback from 28.51 to breach the lower border of the triangle at the 25.10 support area. This breakdown move would aim for completion at the 11.65 support, taking out 21.23 along the way.
On the flip side, expectations for the triangle to act as a bottoming pattern would rely on a bounce at 25.10, which takes out the resistance at 28.51, thus breaching the triangle's upper border. This breakout would target the 33.88 price resistance, with 37.80 also serving as an intervening barrier that needs to go if the harvest point at 44.01 is to be acquired.
ETC/USDT: Daily Chart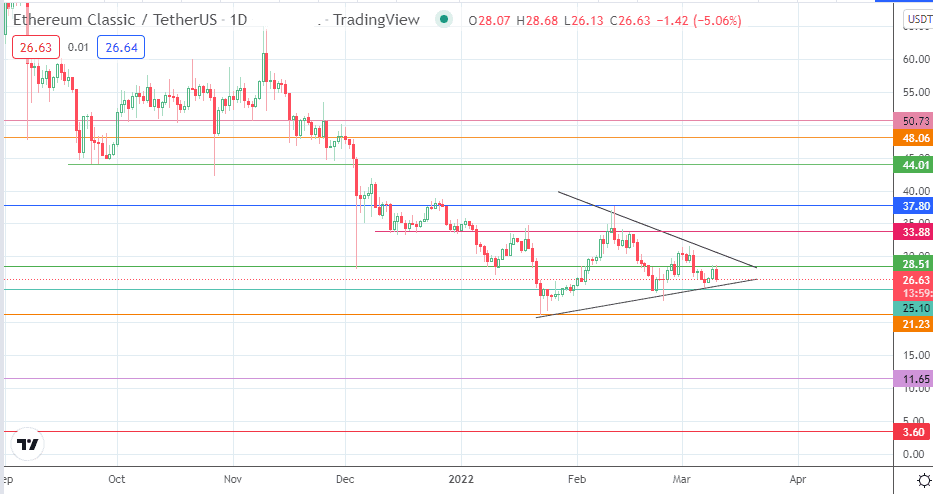 Follow Eno on Twitter.