The Enjin Coin price consolidates at a significant support level, but near-term bearish pressure remains high.
Enjin Coin (ENJ) is unchanged at $2.376 in early trading on Friday as traders digest the scale of the recent sell-off. Enjin coin has lost half its value in the last three weeks as the once-hot Metaverse bubble deflates. Like many gaming and NFT-related tokens, ENJ has reversed most of the gains made in November. As a result, the project's market cap has fallen from around $4 Billion to just over $2b, ranking ENJ the 65th most-valuable cryptocurrency behind Zcash.
The poor performance recently is due to several factors. Firstly, the token rallied over 300% from the October lows to a record high in November, making it over-valued and overbought. At the same time, Bitcoins sharp correction from $69k spurred profit-taking in altcoins, especially those close to record highs. Furthermore, there are concerns that central bank policy will be less accommodative to risk assets in general, causing investors to become more conservative. Subsequently, negative sentiment could force ENJ below $2.00 in the immediate future.
ENJ Price Forecast
The daily chart shows the Enjin Coin price is consolidating around the 100-Day Moving Average at $2.353. A series of highs in August between $2.200 and $2.310 reinforce the immediate support. However, bearish momentum is the dominant theme, suggesting the support may give way.
If the price continues lower, the 200-DMA at $1.903 is a logical target. In contrast, an exaggerated sell-off could extend towards the September lows around $1.200.
Considering the overall market sentiment, I expect ENJ will hit the initial $1.900 price target in the coming sessions. However, a daily close above Monday's high of $2.756 relieves the immediate pressure, invalidating the short-term bearish view.
Enjin Coin Price Chart (Daily)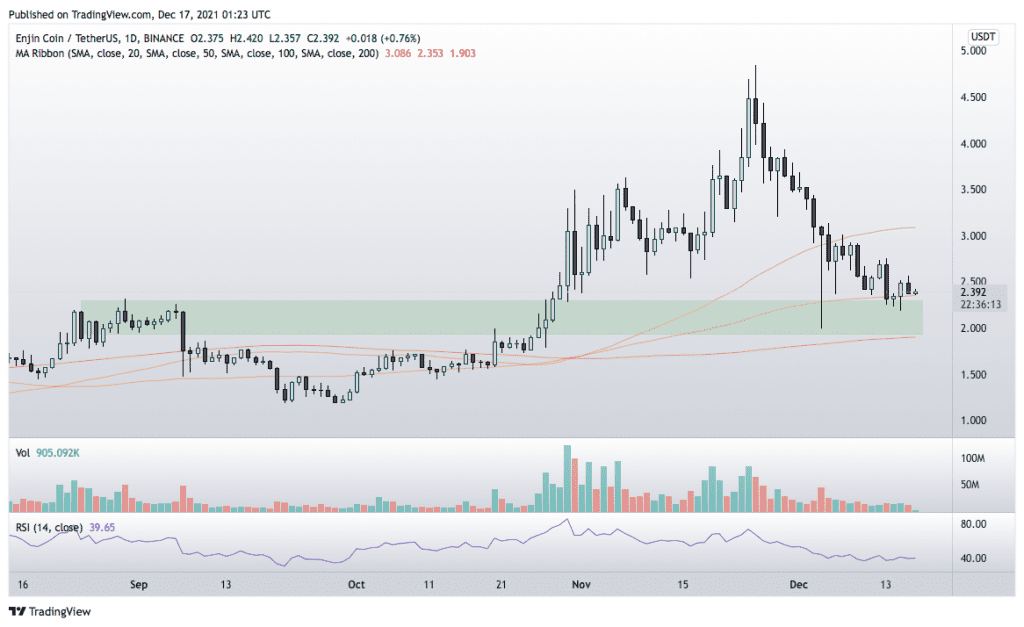 For more market insights, follow Elliott on Twitter.