What is the outlook of the EasyJet share price at this time? The outlook on the stock remains positive, especially as analysts at institutional firms have set a consensus price target of 734.50. This allows the stock with some considerable room for recovery.
Tuesday's easyJet share price declined despite announcing a new lease and buyback deal with Aergo. Aergo has acquired and leased back ten 2008 vintage A319-100 aircraft from easyJet. EasyJet signed two lease and buyback agreements in 2020 to strengthen the company's liquidity positions when the pandemic was biting hard. The two transactions were done with Wilmington Trust SP Services and Sky High 112 Leasing Company Ltd and involved nine A320 aircraft.
The easyJet share price is down 4.91% as of writing.
EasyJet (LON:EZJ) Share Price Outlook
Last week's decline followed the completion of the double top's measured move. However, the formation of a pinbar below the 607.8 price mark set up the steep intraday drop of Tuesday. This decline has led to a test of support at 573.6. There has been a slight violation but the support remains intact. If the bears can degrade this pivot, the 548.8 support mark comes into view as a potential new target. Additional destinations at 530.4 and 508.8 become more valid if the decline is more extensive.
On the flip side, a bounce on the 573.6 support allows the 607.8 resistance barrier to become a valid destination to the upside. Additional recovery towards 655.8 and 684.8 follows the removal of the 607.8 barrier by the bulls.
EasyJet: Daily Chart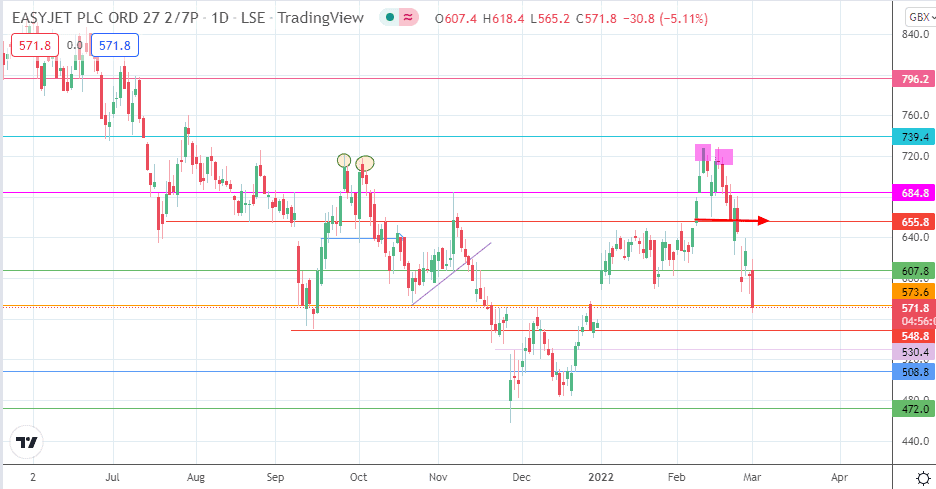 Follow Eno on Twitter.