The EasyJet share price is up for the second day in a row as the company looks set for relisting on the FTSE 100 following an improvement in the company's outlook as it recovers from the pandemic. The lifting of travel restrictions and a gradual return to normalcy in the aviation industry (with vaccination requirements in some cases) has enabled the company to bounce back after the initial setback of the Omicron variant's emergence. EasyJet lost its place in the FTSE 100 in June 2019. It rejoined the index in December 2019, only to lose out once more as the pandemic hit in 2020 to shut down global aviation. It has been trading in the FTSE 250 since then.
New Routes Boosting EasyJet Share Price Recovery
The company released its holiday travel program at the end of 2021 to include new routes. On 21 February, it announced the addition of 90,000 seats across 26 destinations to boost its Easter and holiday travel season schedules. With fares as low as £20.99, extra flights to London Luton, Gatwick, Manchester, Portugal, and the Swiss/French Alps are now within reach for travelers from the UK.
EasyJet has partnered with Azores Airlines to lift passengers via Lisbon and Porto to five Azores Islands. The Azores flights will also touch base with Paris and Barcelona, giving travelers in the UK and Europe access to holiday destinations they have missed out on for two years now. The EasyJet share price has responded positively to the events as investors are snapping up the stock. It is up 1.03% as of writing, adding to Tuesday's 1.64% gain.
EasyJet Share Price Outlook
Tuesday's recovery followed the completion of the double top's measured move just ahead of the 607.8 support. The recovery in the EasyJet share price brings the stock close to the 684.8 resistance. Clearance of this barrier puts the stock in the path towards the 720.0 price mark (2nd peak in the completed double top), with 739.4 looming large as the next barrier in line. Above this level, 796.2 serves as an additional target to the north.
On the flip side, failure to breach 684.8 keeps the upside capped. If there is rejection and a pullback from this area, 655.8 becomes the next downside target before 607.8 becomes available. A further decline needs to break down 607.8 before 573.6 and 548.8 enter the picture as potential targets to the south.
EasyJet: Daily Chart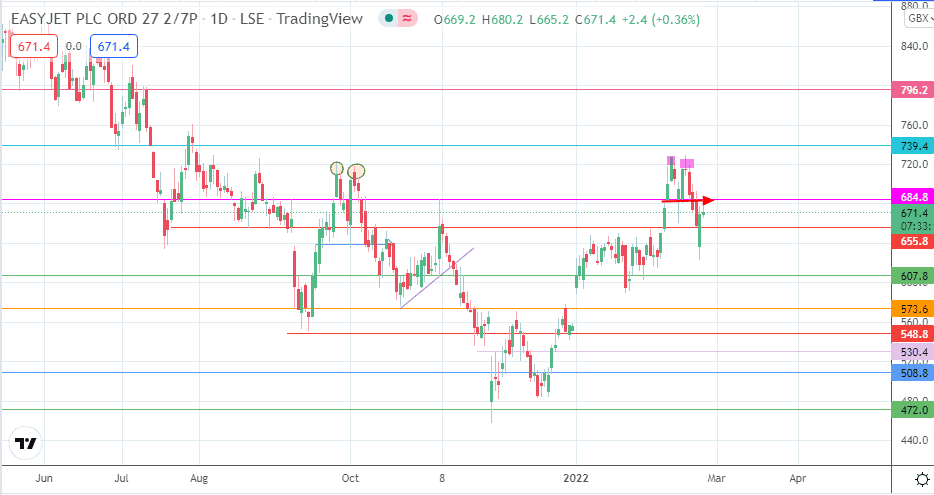 Follow Eno on Twitter.