The Dow Jones index started the week by plummeting 0.33% below its last week's low. The decline came despite a recovery in the tech stocks on Monday. Till press time, the Dow Jones Industrial Average stood at 33,428 points, which was the lowest level for the index in the last 5 months.
On Monday, the NASDAQ 100 index rose 0.61% above its last week's lows. The rebound in the tech-heavy index could be attributed to the recent rebound in the tech stocks. However, bearish sentiment persisted in the broader US stock market as the S&P 500 index lost 6 points, and INDEXDJX: DJI also fell 119 points on Monday.
Markets Remain Mixed After Shutdown Deal
During the weekend, investors were on the edge of their seats as the government shutdown was only hours away. However, the Senate passed a bill that allowed the government to operate till November. The markets reacted positively to this news, with futures being in the green on the weekend. However, bearish sentiment took over once again as the focus shifted back towards the 15-year high interest rates.
The Institute of Supply Management released their purchasing manager's index on Monday. The index came at 49%, which was 1.2% more than the 47.8% expected by analysts. However, further downside is expected in the future despite the slight recovery in the PMI index. The Dow Jones Index currently sits 6.5% below its yearly high.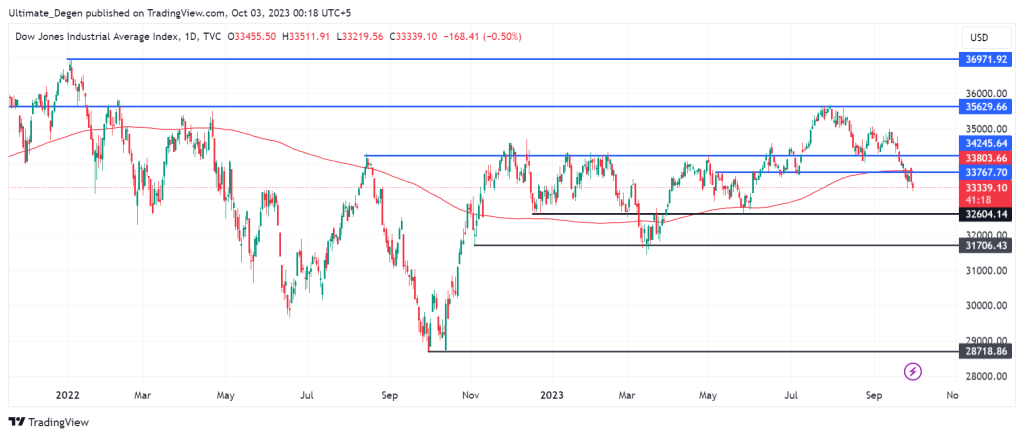 Dow Jones Index Gets Rejected From 200 MA
As I discussed in my previous Dow Jones index forecast, the index suffered an intense rejection from the 200 MA last week. On Monday, the index opened 0.36% lower from last week's low as the bears continued to gain momentum.
The most likely scenario seems to be a retest of the 32600 points support level, which lies 2.2% below the current levels. The benchmark of the blue-chip companies may gain strength in case of reclaim of the 200 MA level, which lies currently at 33804 points.