Dow Jones Index plummeted on Tuesday amid a strong sell-off in the US stock market. The index is down 0.71% in the weekly timeframe, making the current week the fourth consecutive red week for the benchmark index.
Other benchmarks also followed as the Nasdaq 100 and S&P500 declined by 1.32% and 1.16%, respectively. The INDEXDJX: DJI chart reveals it stands 3.36% below its September high. On the monthly time frame, the index plunged for the second month in a row and is currently retesting the July lows for support.
Rising Treasury Yield Triggers Sell Off In US Stocks
The treasury bond yield has soared to its highest point since the 2007 crisis, showing the markets are expecting the interest rates to remain elevated for the first half of 2024. The investors don't expect significant rate cuts before the second half of next year.
Since the start of September, the 10-year treasury yield has increased by 46 basis points. This rise can be attributed to the rising dollar strength as investors continue to bet on the interest rate to remain high. The Dow Jones Industrial Average is up 7% from its lowest point of this year i.e. 31,457 points.
Dow Industrial Average Chart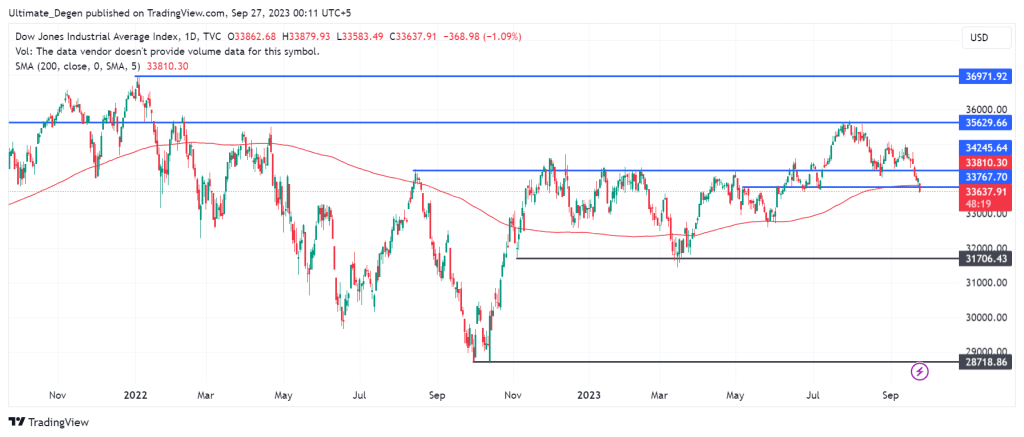 Dow Jones Index – Technical Analysis
The INDEXDJX: DJI is currently retesting its 200 MA after breaking below its 34,265 points support level. There seems to be strong support around the 33,800-points level due to the presence of June lows. Due to these confluences, there is a high probability of a short-term bounce from the current levels.
The bulls do not have much time as The Dow Jones Index forecast is expected to turn bearish soon. Further downside could be on the cards if the index gains weakness below the 33,800 points level. I expect a 6% correction toward the March lows if this scenario occurs.