The DNT price has done relatively well in the past few days as investors cheer the growth of District0x ecosystem. The token is trading at $0.1500, about 83% above the lowest level this month. In addition, its market cap has surged to more than $112 million, according to data compiled by CoinGecko. CoinMarketCap places its market value at about $92 million.
What is District0x?
District0x is a relatively new and fast-growing blockchain project that seeks to take part in the decentralization of industries. The developers were inspired by the success of companies like Uber, Airbnb, and Lyft that have changed their sectors. As a result, analysts expect that more decentralization of sectors will happen in the coming years.
Therefore, District0x hopes to facilitate the operation and governance of marketplaces of industries. The network is comprised of districts, which are markets and communities that exist as decentralized entities built using the dOxINFRA framework. These districts are made up of key functionalities like posting and listings, search and filter, ranking and reputation, and payments and invoicing.
The DNT token is the governance of this ecosystem. Some of the top marketplaces built using District0x are Ethlance, Name Bazaar, Meme Factory, and Future Districts, among others. The DNT price is rising as recent data show that the network is growing. For example, Meme Factory has moved to Polygon PoS.
It also jumped after the demand for its DAO rose sharply in the past few months. However, there are signs that challenges are emerging. As shown below, the total number of unique addresses that hold assets in the network rose in the first months of the year and has made a sharp decline.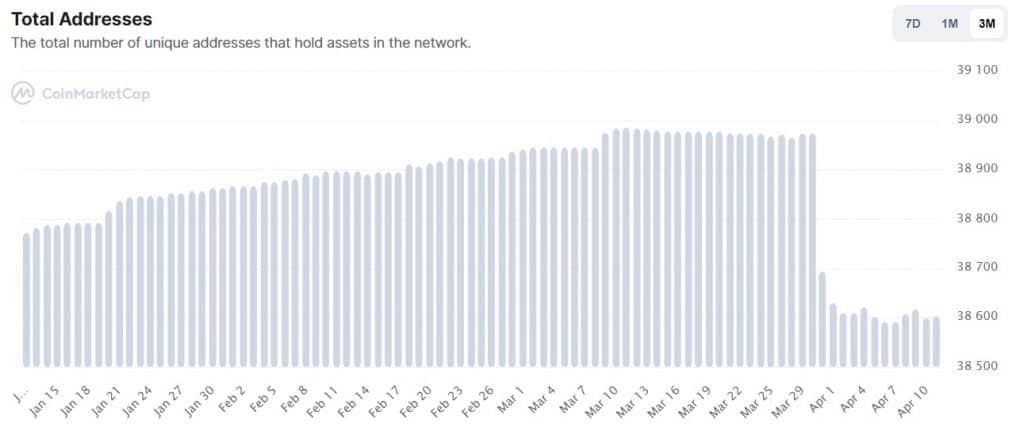 DNT price prediction
The four-hour chart shows that the DNT price has been in a strong bullish trend in the past few months. It went parabolic on April 3rd and reached its all-time high of $0.2088. In addition, the District0x price has moved slightly above the 25-day and 15-day moving averages.
However, a closer look shows that the volume has started moving in a downward trend. Therefore, there is a likelihood that the coin will start a new bearish trend in the coming days as investors start taking a profit. If this happens, the next key support level will be at $0.1055.