Intro
DIS is the stock symbol of Walt Disney, an American entertainment and media conglomerate. The company was founded by brothers Walt and Roy Disney in 1923. Commencing operations as the Disney Brothers Cartoon Studio, the company has in its 100-year history, added new flagship products. A list of its subsidiary companies includes:
Walt Disney Studios
Walt Disney Pictures
20th Century Studios
The Disney Channel
ESPN
Freeform
National Geographic.
Disney's most famous product is its theme parks that feature the company's Mickey Mouse iconic logo and character. The company's hotels, resorts, and cruise lines are also operated along with the theme parks under the Disney Parks, Experiences and Products subsidiary.
Disney Stock News
The latest Disney stock news that moved the Disney stock price today came from its diluted first-quarter earnings report for 2022. According to the numbers, the earnings per share hit $1.06. This was a remarkable jump from the earnings of the same quarter in the previous year that came in at $0.32. The earnings number also surpassed the consensus of polled analysts forecast at $0.63. In addition, revenue for the quarter ended 1 January came in at $21.8 billion, which was more than the $16.3 billion earned in the same period a year earlier and trumped the consensus of $21 billion.
This robust earnings report fired Disney shares up by 3.74% as of writing this Thursday and extended the week's gains by 7.48%. Disney stock was one of the better-performing stocks on a trading day when red-hot inflation consumer inflation data came in at an annualized figure of 7.5%, signalling the highest inflation in the United States in 40 years. This also ramped up bets of a 50bp hike by the US Federal Reserve.
The Disney stock forecast of a pandemic recovery from 2022 appears well underway, following months of globally shuttering its theme parks.
Will Disney Stock Go Up?
Will Disney stock go up in price after yesterday's performance?
Twenty-five analysts have provided a 12-month price forecast for Disney stock, with a median target of 191.0, a high band of 220.0, and a low band of 132.00. This is a 25.58% increase from the previous price target and reflects the bullish outlook that these bank analysts have on the stock.
Furthermore, a poll of 29 investment analysts has revealed a consensus of Buy for Disney stock. This Disney stock forecast remains unchanged from January 2022's buy rating. These forecasts from institutional analysts suggest a potential for Disney stock to move up, and these forecasts have received some credence from the latest earnings results.
The company expects to face supply chain cost increases from now on, in keeping with the difficulties and associated increases from supply chain challenges across the world. Disney has traditionally used a combination of reduction of portions and slight increases in size to address some of these costs.
Disney's faithful clients do not have many options for family-themed entertainment and are accustomed to these increases. Therefore, the company has room to implement new price adjustments if it needs to.
Disney is also expected to raise the prices of its Disney+ streaming service. The company plans to spend $33 billion on new content in 2022. In a recent interview, Chief Executive Bob Chapek said that prices for the streaming service would have to go up to accommodate this expenditure. When viewers can expect to pay higher fees for this service is unclear yet, as no timelines have been fixed.
Disney Stock Forecast 2022
The latest price targets set by institutional analysts indicate a potential for a 29.6% increase from present levels before the median band is met. This is the basis for the Disney stock forecast 2022 outlook. 
Following the release of positive earnings results last week, Disney stock met resistance at the 157.49 barriers, and the pullback took the price activity below the 152.00 price level. The 0.98% upside with which the price action has begun the current week is making a fresh attempt at 152.00. Upside momentum that carries the price above this barrier will have another chance at retesting 157.49. Only when this barrier is broken can 167.35 become an additional barrier to the north.
The median price target corresponds to the high of 1 March 2021. Even if price hits 157.49, additional barriers at 180.42, and 186.68 must give way before this target is hit. This is a lot of work for the bulls, but if subsequent quarterly results continue to beat the consensus estimates, attainment of this target will not be an issue. 
On the other hand, failure to conjure additional bullish momentum could keep the Disney stock price confined. The lower band of 132 is more attainable if there is a rejection from present levels that targets 142.11 and subsequently 128.78. Ideally, uncapping the 180.42 barrier raises the chance of a Disney stock forecast for 2022 hitting the median band. The upper band of 220.0 appears when the 8 March 2021 high is surpassed.
Disney stock forecast 2025
The Disney stock forecast 2025 will depend on how well the company continues its post-pandemic recovery. The S&P Global Market Intelligence report suggests that Disney will likely see a 90% jump in its earnings per share in the 2022 fiscal year but will experience a slowdown in the 2023 fiscal year as earnings rise by only 30%.
If the earnings play out as projected, we could see a slowing of demand for Disney stocks, which could dampen the Disney stock forecast 2025 outlook. Disney would need to put up superlative performances in its earnings and surpass the slightly downbeat estimates of the S&P Global Market Intelligence outlook to remain above the upper band of the most recent price targets.
Is Disney a Good Stock to Buy?
Is Disney a good stock to buy now?
The fact that Disney's parks and cruise lines were shut down for close to two years as the coronavirus pandemic broke out, resulting in significant revenue loss. The company was forced to turn to its streaming product, Disney+, as a lifesaving revenue stream as the locked-down public had to resort to other forms of indoor entertainment. As a result, Disney stock has risen more than 150% from its pandemic lows.
The parks are open, the cruise lines are coming back on stream, and the Disney+ product continues to find success in the market. Several films produced by Disney studios are enjoying market attention, and more than 20 have been nominated for the Academy Awards. The success of Disney+ has been the main driver of the latest robust earnings numbers.
With analysts seeing a 29% upside on the stock within the next 12 months, those with a full bag can consider Disney stock a good stock to buy.
Summary
2022 is expected to be a standout year for Disney stock and its investors. The upbeat Disney stock forecasts and price targets for 2022 come as the stock stages a recovery from its pandemic lows. However, it is still riding on the reopening of its businesses and the improved earnings that have resulted from it.
However, the longer-term outlook is not as robust. Disney is expected to falter in its earnings heading towards 2025. It would need to consolidate its present business models and possibly improve on them to generate earnings that will keep demand strong.
Disney: Weekly Chart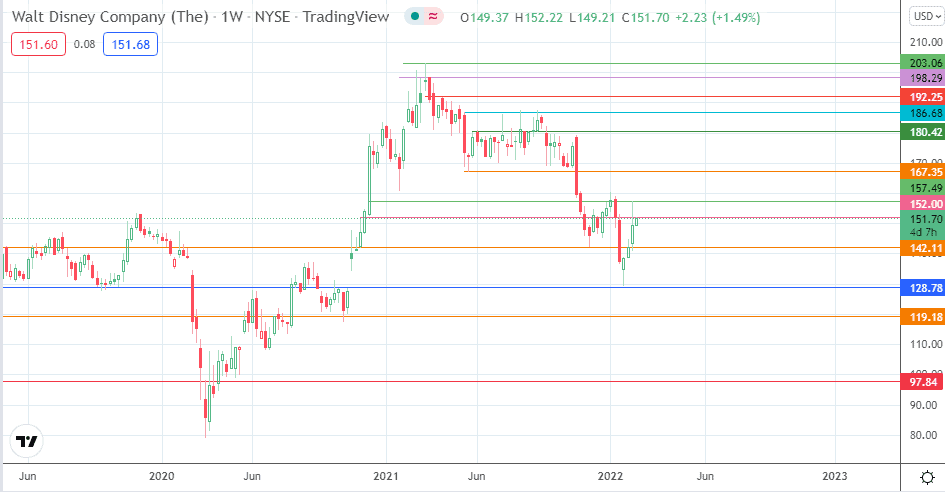 Follow Eno on Twitter.