The Deliveroo share price has had an underwhelming conclusion to Thursday's trading session after the European Commission published proposals that could impact ride-hailing and food delivery companies. The new rules call for a reclassification of drivers and couriers as employees, entitling them to minimum wages and other employee protections.
The rules are yet to become EU law but could allow for sweeping changes to the employment structure of workers in the gig industry. These workers do not enjoy regular employee perks such as health benefits and paid leave. If the law is passed, labour costs will rise for companies like Deliveroo and Uber.
The Deliveroo share price has had a torrid 4th quarter, with the price falling nearly 36% as consumers returned to conventional shopping habits following the lifting of lockdowns in the UK. However, the reintroduction of restrictions to combat the spread of the Omicron variant and the potential for increased logistic demand during the holiday shopping season could be a boost for Deliveroo.
The stock is down 1.25% on the day as of writing.
Deliveroo Share Price Outlook
The decline of the intraday keeps the Deliveroo share price within the range of 247.2 (ceiling) and 230.6 (floor). A breakdown of the floor sends the Deliveroo share price towards the 230.6 price mark (6 December low).A decline below this level sends the stock to new lows, with the 127.2% Fibonacci retracement level at 180.2 lining up as a potential downside target.
On the flip side, a break of the range's ceiling at 247.2 allows the bulls to beat a path towards 262.4. An advance beyond this point targets 274.9, with 290.9 and 300.9 serving as additional upside targets.
Deliveroo: Daily Chart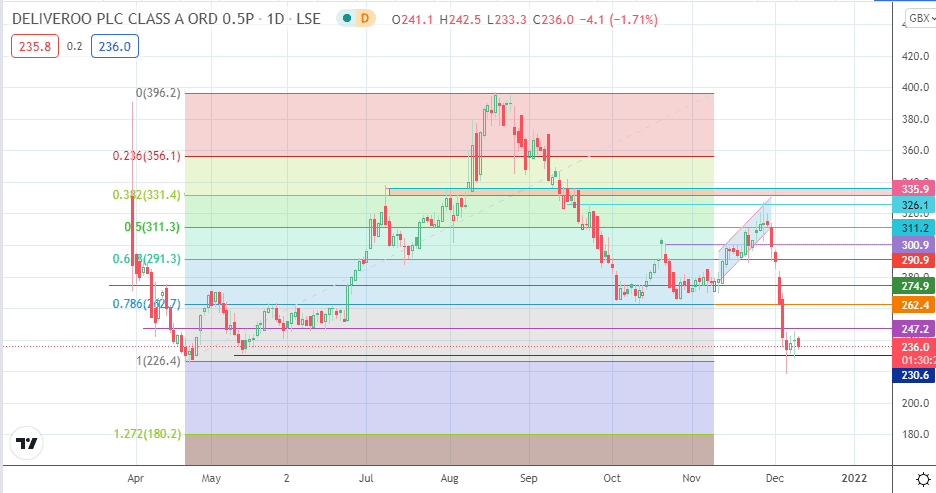 Follow Eno on Twitter.