The DAX index slipped to the lowest level since July 19 as investors focused on monetary policy and the growing risks in Europe. The GER40 index dropped to a low of €12,800, which was substantially lower than this month's high of €13,965. It is also about 13% lower than the year-to-date high.
German stocks risk
The DAX index retreated sharply due to several factors. First, recent statements by Federal Reserve and European Central Bank (ECB) officials pointed to higher interest rates for longer. In his speech at the Jackson Hole Symposium, Jerome Powell said that the bank will continue hiking interest rates in the coming months.
The same sentiment was shared by European Central Bank (ECB) officials who were at the event. Most of them warned that higher interest rates were necessary to fight the soaring inflation. This is notable since the European economy is facing one of its deepest contractions in years.
The DAX index also slipped because of the recent signs of a major economic slowdown. Flash manufacturing and services PMI numbers published last week showed that output was slowing dramatically in Germany.
At the same time, China has also been forced to provide stimulus as the economy. Last week, the country's central bank made its second rate cut of the year. China is a major market for most DAX index constituents like Volkswagen and BMW. 
Meanwhile, many DAX companies are seeing thin margins as business costs rise. In addition, energy prices have surged to a record high while the ongoing drought has brought its challenges.
The only DAX index gainers in the past 30 days are Munich Insurance, Hannover Rueck, Henkel, Volkswagen, and Beirsdorf.
DAX index forecast
The four-hour chart shows that the DAX 40 index has been in a downward trend. Along the way, it dropped to the first support of the standard pivot points. The performance is also being supported by the 25-day and 50-day moving averages and the Relative Strength Index (RSI).
Therefore, the index will likely continue falling as bears target the second pivot point at €12,570. A move above the resistance at €13,000 will invalidate the bearish view.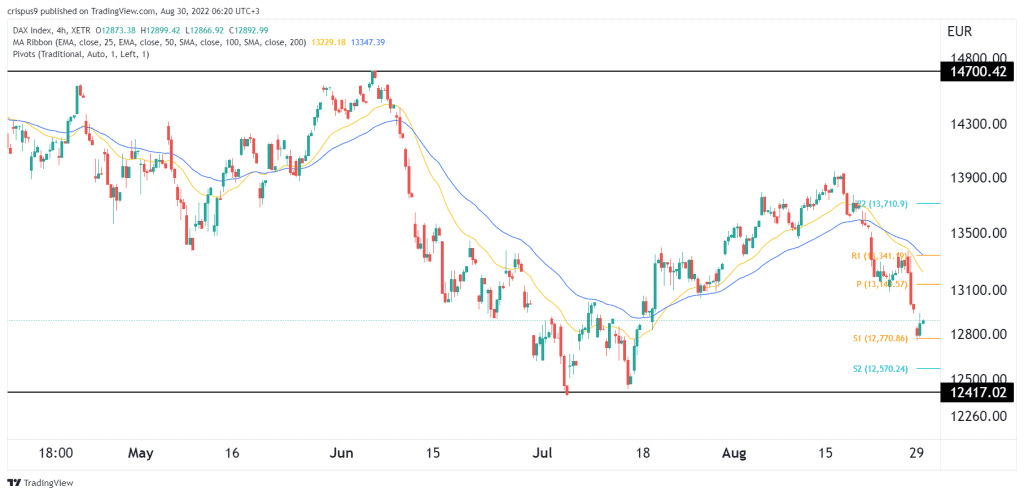 GER30 support and resistance
The bearish view is supported by InvestingCube's S&R indicator, which is one of the most accurate tools in the market. Developed a few years ago, the tool's signals have an accuracy rate of over 80%. The indicator identifies the support levels at 12,740 and 12,557. The resistance to the trade is at 13,380. You can subscribe to the S&R indicator here.