Over the past few months, the CTRM stock price has significantly declined. The Castor Maritime stock is trading at $1.19, close to its all-time low of $1. It has crashed by 99% from its all-time high, bringing its market capitalization to about $119 million. Is there any hope for investors in 2022? Keep on reading for our detailed CTRM stock forecast.
What is CTRM?
CTRM is the ticker symbol for Castor Maritime Inc, a company based in Cyprus. The firm was started in 2017 and has about 40 tankers and vessels. It was started by Petros Panagiotidis, who currently serves as the chief executive and chairman. The company went public in 2019 and is listed at the Nasdaq. It raised millions of dollars at a valuation of almost $1 billion.
Read more share news here.
Castor Maritime Stock news
The CTRM stock price has been under intense pressure in the past few months as investors have worried about its growth and debt. The company has made several headlines in the past few months. The most recent news is that the firm announced a $55 million senior term loan facility with a European bank.
The new loan has a tenor of 5 years and has an interest of about 3.5% per year. It will use the funds for general administrative purposes.
Another important news that moved the CTRM stock and altered investors CTRM stock forecast is that the company announced that it had chartered a new dry bulk carrier known as M/V Magic Callisto. The vessel was built in 2012 and has a gross daily charter rate of about 101% of the average Baltic Panamax Index 4TC routes. At the same time, the company increased its fleet by chartering M/T Wonder Bellatrix.
CTRM revenue
Castor Maritime also announced relatively quarterly solid results in November 2021, boosting our CTRM stock forecast. The firm had a net income of $43 million in the third quarter, higher than analysts expected. It was also a strong performance considering that it had just $2.8 million in revenue in the previous year.
Castor is also a profitable company. In the third quarter, the firm made a net income of $15.5 million, a stronger performance than its previous loss. Its EBITDA also rose to more than $21.2 million.
This performance mainly was because of the strong pricing power for companies in the marine industry as demand rises globally. In addition, other giant shippers like Maersk and Mediterranean reported strong results in 2021 as demand and prices rose.
CTRM stock history
The Castor Maritime stock price has mixed performance as a public company. The stock initially jumped to an all-time high of $190 when it went public. However, the declines started shortly after that, and the shares declined to an all-time low of $1 in November 2020.
It then made a strong recovery in early 2021 as it became a popular stock in the Wall Street Bets community. But unfortunately, these gains were short-lived as the CTRM stock price has crashed by almost 100% from its highest level in 2021.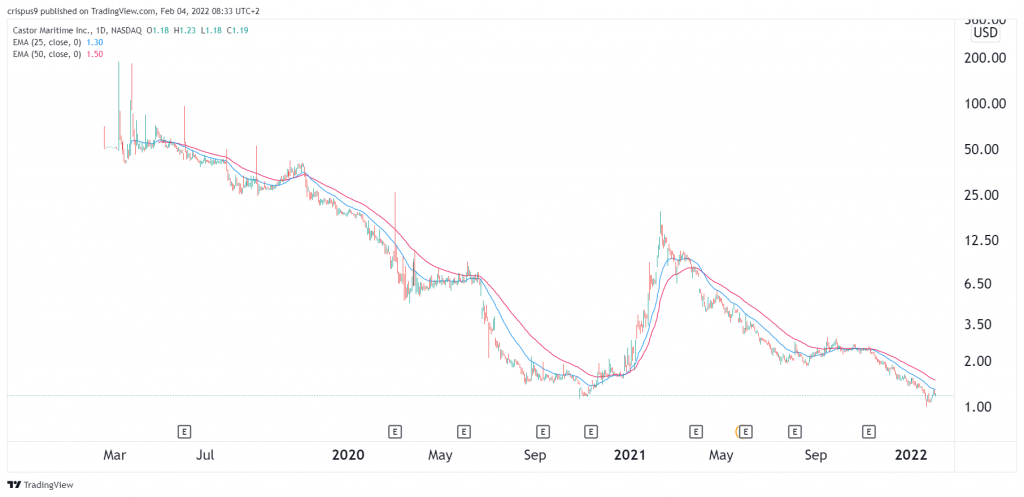 Is CTRM a good investment?
CTRM looks cheap. Besides, its shares have dropped by almost 100% from their all-time high. It is also a profitable company.
However, a closer look at the company shows gaps that make it a challenging company to buy. First, the company has been diluting its shareholders since it went public from the fundamental side.
A closer look at the number of outstanding shares shows that they have been rising. Indeed, they have risen by more than 39,000% in the past three years. Worse, the situation will worsen because of the need for financing.
Second, it is also a highly-indebted company. For example, while the firm has just $36 million in cash and equivalents, it has a total debt of more than $71 million. Adding the $50 million raised in January shows that the total debt has risen to more than $120 million.
Still, some catalysts could push the CTRM stock price higher. For example, as I will demonstrate below, the stock has moved to the oversold level. It has also become a penny stock, meaning it could gain interest from the Wall Street Bets crowd. Finally, and most importantly, as shown below, the short interest in the stock has been declining.
CTRM short interest

So, should you invest in the CTRM stock? While there are many bearish catalysts, there is a sense that the stock has gotten too cheap in the past few months.
CTRM stock forecast 2021
CTRM is a relatively small company, meaning that analysts from major Wall Street banks do not track it. So, to invest in CTRM, you must do your research.
Turning to the daily chart, we see that the CTRM share price has been in a strong bearish trend in the past few months. As a result, the stock's downward trend has been supported by the 25-day and 50-day moving averages.
A closer look shows that the Castor stock is hovering slightly above its lowest level on record while the Relative Strength Index is emerging from the oversold level.
Therefore, as rates start rising global, I suspect that the stock will continue to fall in the first half of the year and then rebound later.
CTRM Stock Price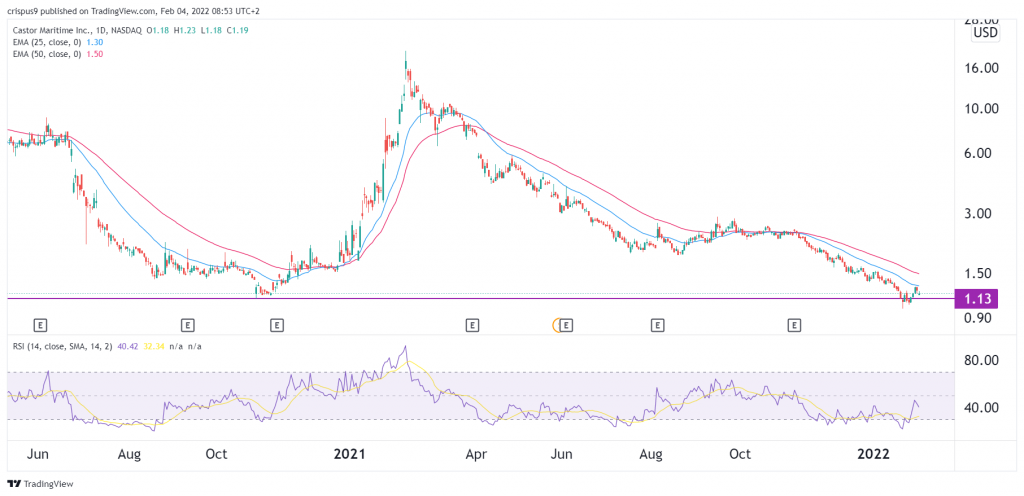 CTRM share price forecast 2025
Turning to the weekly chart, the stock has been in a strong bearish trend. The chart shows that the stock is trading at key support shown in purple. The bearish trend is supported by the 25-day and 50-day moving average while the RSI is approaching its oversold level.
Therefore, as I wrote in the forecast for 2025, I expect that the stock will maintain a bearish trend for a while and then rebounds as investors buy the dips. This trend could see it retest the resistance at $2.90. By 2025, however, I expect the stock to be lower than where it is today.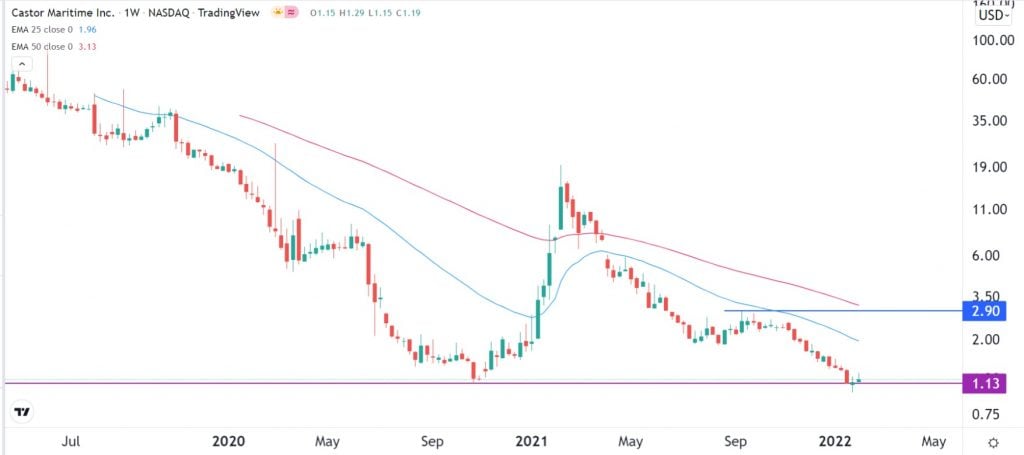 Summary
The CTRM stock price has lagged substantially as a publicly-traded company. It has even lagged behind some of its key competitors like Safe Bulkers, Diana Shipping, and Teekay, which have had positive returns in the past 12 months.
While the stock seems cheap, there is a likelihood that it will continue falling in the coming years as rates rise. However, another bullish comeback can't be ruled out in 2021, considering that it has now become a penny stock.