Crypto.com has added yet another sporting giant to its list of partners. Parisian soccer powerhouse PSG follows the UFC and Formula 1 in naming Crypto.com as their official crypto trading and NFT platform. Crypto.com (CRO/USD) has been a pioneer in the sports sponsorship stakes. The fast-growing cryptocurrency company has inked several high-profile partnerships over the last few months.
Crypto.com Sports Deals
A $100m tie-up with Formula 1 was swiftly followed by an even bigger $175m sponsorship deal with the Ultimate Fighting Championship (UFC). And even though those will create massive exposure, today's announcement may be the pièce de résistance.
"We are delighted to welcome Crypto.com to the Paris Saint-Germain partner family. We share the same passion for innovation and the same ambition to reach the very top. With this partnership, Paris Saint-Germain demonstrates once more its vision and leadership as a pioneer in areas such as lifestyle, esports and digital. It is an exciting time for Cryptocurrency, and we cannot wait to work with Crypto.com to bring new experiences to all of the club's fans."-Marc Armstrong, Chief Partnerships Officer, Paris Saint-Germain.
Paris Saint-Germain is the home of arguably three of the world's top 5 players, Kylian Mbappe, Neymar Jr, and Lionel Messi. As a result, the French team has a huge social media following of more than 140 million. This should generate immense publicity for the crypto company. But not only for trading and card services. The latest sports deals lend themselves perfectly to Crypto.com's new Non-Fungible Token (NFT) platform. And it's this that could provide the biggest tailwind for the price of its native CRO Token.
Crypto.com Price Performance
The CRO token has performed well over the last three years. Of course, like most cryptocurrencies, the price has been prone to bouts of volatility. Nonetheless, since 2018, the price has increased a respectable 1000%.
It's hard to say if Crypto.com can repeat the performance in the next three years, although the prospects are good if the forward-thinking company continues to strike quality partnerships.
If you want to keep abreast of the latest breaking news and price predictions for the CRO Token, you can find more useful information on our dedicated Crypto.com page.
CRO/USD Price Chart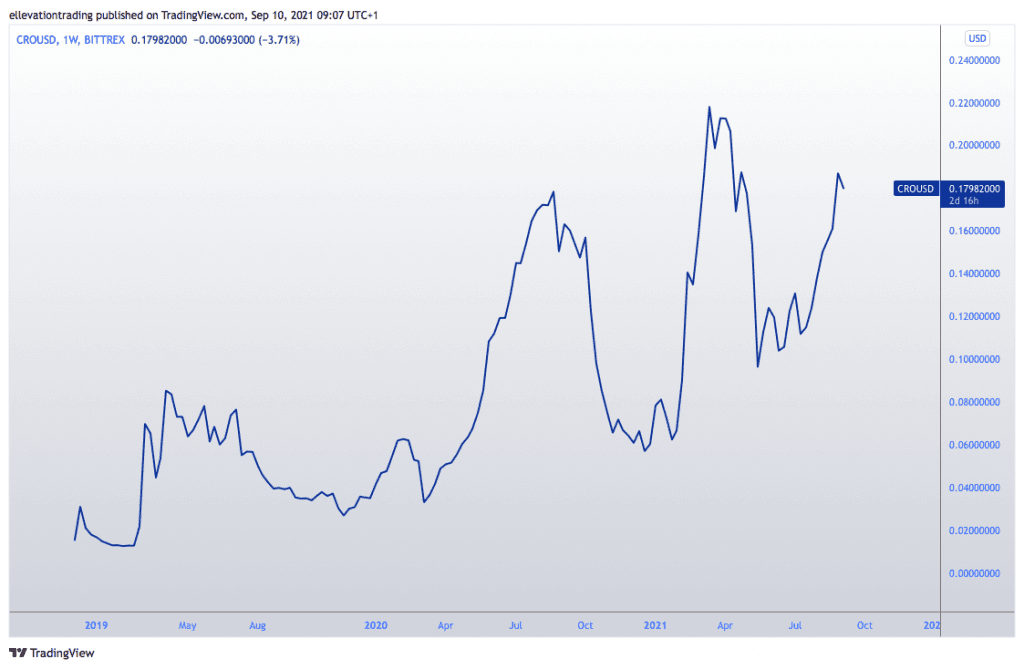 For more market insights, follow Elliott on Twitter.