Crypto.com's native token looks ripe for a breakout. The CRO price is building pressure below key resistance, which could lead to a scorching rally. CRO/USD is only higher by 2.5% to $0.1666 so far today. However, if it punches through $0.1700, it could increase those gains dramatically.
The recent cryptocurrency rally has ignited parabolic rallies in some assets, whilst others have been much more subdued. Crypto.com coin is firmly in the latter camp, and the 100% rally since June has been remarkably orderly. As a result, the CRO price has been trending higher in a clearly defined parallel channel. However, for the last two weeks, the token has been threatening to break through on the upside, and today it may just succeed.
Crypto.com Price Forecast
The daily chart shows that series of higher highs over the last 6 weeks has resulted in trend resistance currently capping the price at $0.1700. The trend line has so far rebuffed rallies, including yesterday's jump to $0.1686. However, the CRO price is above the major averages. Moreover, the 50-day has completed a bullish crossover of the 200. This suggests that positive price momentum is building, which is also reinforced by the RSI turning higher.
Although the Moving Average Convergence Divergence Indicator (MACD)is yet to flip positive, it should do so soon. This lends to the bullish argument, and combined with the above, should force the breakout.
Successful clearance of $0.1700 should see CRO extend to the May 1st high at $0.19800. Although considering the performance of the market as a whole, an argument can be made for the price to test the April all-time high of $0.2499, around 50% above the last trade,
For now, the price remains in the trend, and of course, there are no guarantees that it will breakout. On that basis, should it fail here, a return to the support of the moving averages, around $0.1400, can't be ruled out.
CRO Price chart (Daily)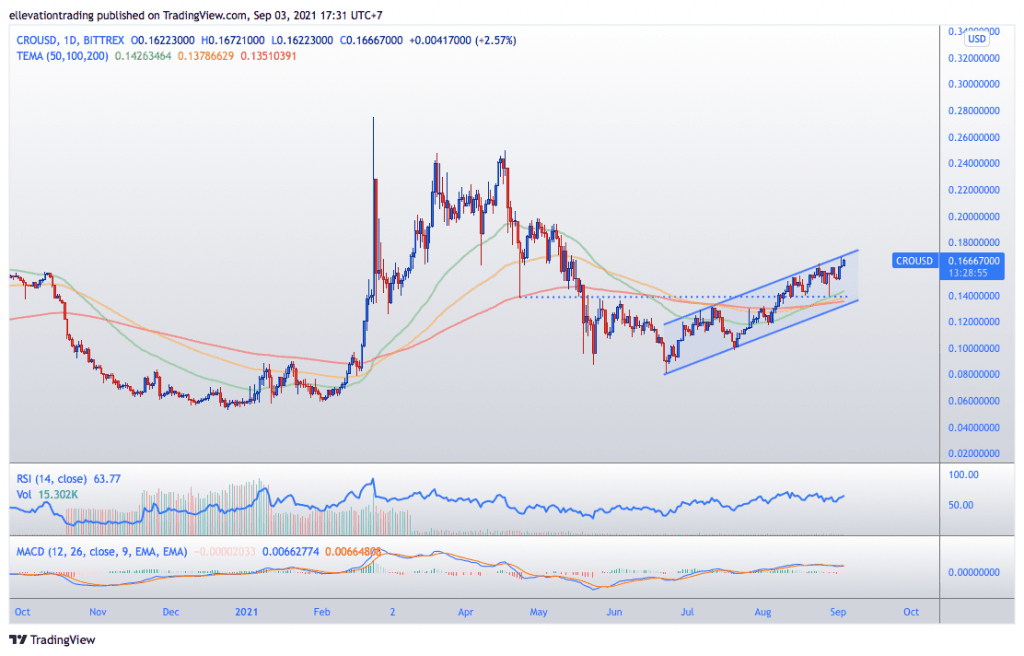 For more market insights, follow Elliott on Twitter.