The IAG share price is riding on a second day of gains, after investors in aviation stocks applauded the UK government's decision to extend financial bailouts to companies in this sector. Under the arrangement, £6,000 per premises, plus more than £100 million discretionary funding will be made available for local authorities to support other businesses.
A total of £1 billion of support is coming in, along with the reintroduction of the Statutory Sick Pay Rebate Scheme to cater to COVID-19 related work absences by employees.
British Airways, which is the flagship company in the International Airlines Group, looks set to benefit from the lifting of travel bans in the UK and Canada. British Airways operates routes to New York and Lagos out of London Heathrow airport, two of its most lucrative routes that were impacted by the initial travel bans in response to the emergence of the Omicron variant. 
The IAG share price is up 2.03% as of writing.
IAG Share Price Outlook
The evolving double bottom on the daily chart needs to break the neckline at 143.94 to be completed. The completion of the pattern sets up a measured move approach that targets 167.54 as the completion point. This move needs to take out several barriers along the way at 149.72 and 156.40 to attain completion.
On the flip side, rejection at 143.94 renders the pattern incomplete, and sets up a pullback towards 136.64. If the rejection move is more extensive, 124.48 becomes an additional price target, being the ceiling of the support zone where the troughs that form the bottoms of the pattern lie. A breakdown of this zone invalidates this pattern. Otherwise, a bounce from this same zone sets up an opportunity to form a triple bottom which would still need to break the 143.94 neckline to be complete.
IAG: Daily Chart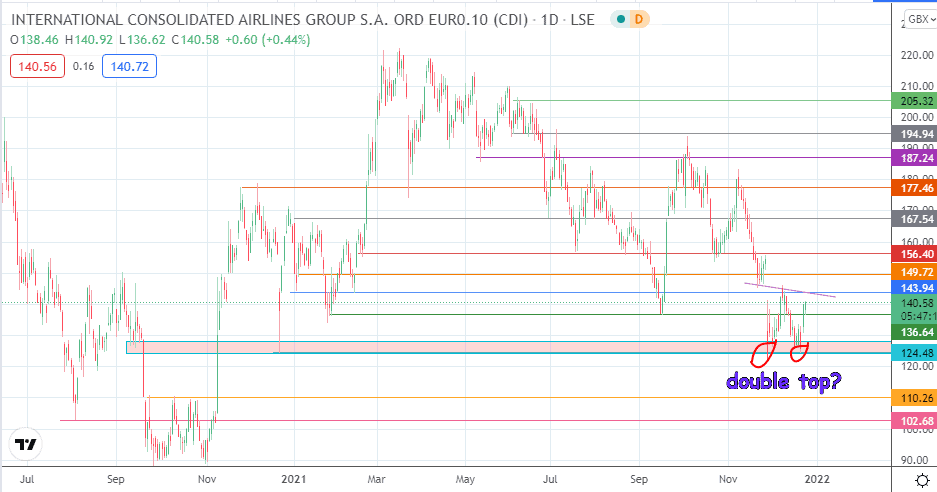 Follow Eno on Twitter.