Coinbase stock started the week on the back foot, losing 2.2% on Monday after the cryptocurrency exchange sold $2 billion of Junk bonds. Monday's negative close extended Coinbase Global inc's (NASDAQ: COIN) losing streak to five days, its worst-ever run of form. However, calm was restored yesterday, and COIN finished marginally higher.
Coinbase initially aimed to raise $1.5 billion via offering 7 and 10-year Bonds. However, due to strong participation, the company decided to increase the sale by one third to $2 billion. Because Coinbase does not hold an investment-grade credit rating, the bonds yield far more than treasuries. This can make them an attractive proposition for debt investors. As such, the sale was reported to be oversubscribed by a healthy margin. Despite the increasing debt-load, this should inspire some confidence in the company. Maybe that's the reason the Coinbase share price has started to turn higher.
COIN Price Forecast
The daily chart shows that on Friday, COIN dropped below a rising trend line at $256.50. Furthermore, after breaking down, the stock slid below the 50-day moving average at $253.50. However, seeing as Coinbase has only been listed since April, the importance may not carry as much consequence.
Nonetheless, the trend breakdown is a negative development and technically speaking, until Coinbase stock recovers the trend, it should trade with a negative bias. A logical target on the downside is the band of support between the all-time low at $208 and a series of lows around $213.
Although, clearance of the trend at $226.50 would flip the outlook to bullish. In that event, COIN should advance to trend resistance at $290.
Coinbase Stock price Chart (Daily)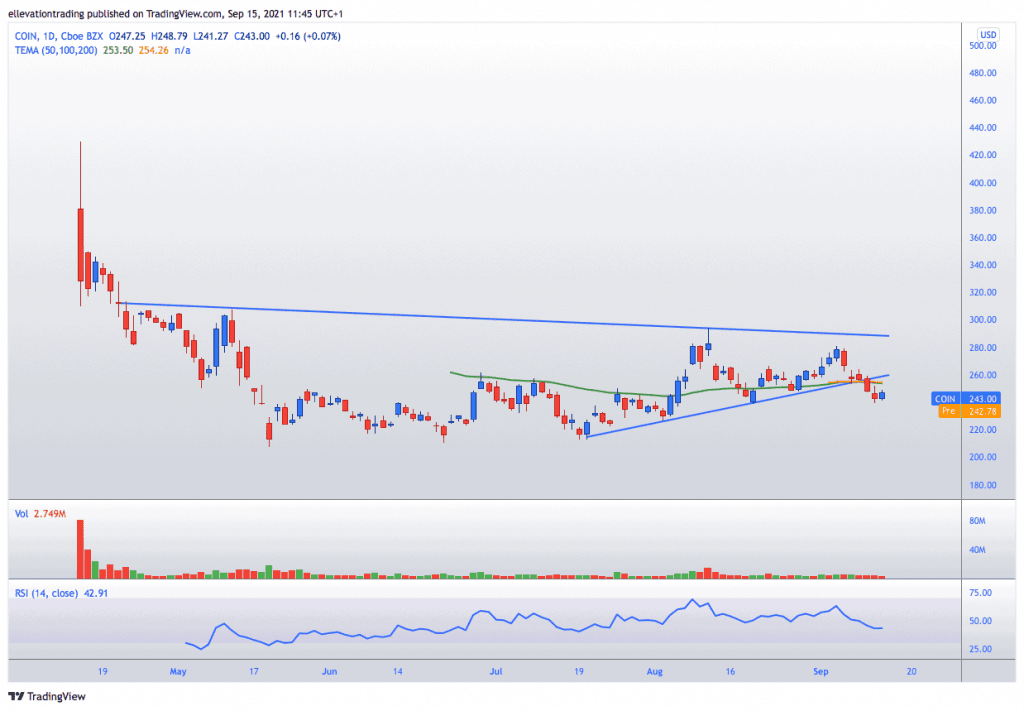 For more market insights, follow Elliott on Twitter.