On Tuesday, Clover health stock surged to its best day since June, possibly setting the stage for another blistering rally. It had been a long time coming for Clover Health Investments Corp (NASDAQ: CLOV). For the last two weeks, the stock has been building pressure for the upside breakout, which finally came to fruition.
In July, the health insurer surprised the market with an impressive Q2 trading update that revealed a 140% jump in revenue. However, despite gaining 11% the following day, CLOV was unable to break into double figures. As a result, the stock spent most of August in a tight range between $8.00 and $9.00. That is until yesterday when the Clover stock price finally burst through, trading as high as $11.13 before ending the day higher by 22.17% at $10.80.
Why Clover Rallied
There isn't an obvious business-related catalyst for yesterday's rally. However, Clover has been gaining traction on Reddit's wallstreetbets investing forum. This twinned with an increase in short selling is likely the defining factor. Despite the company's first-half performance, short interest in CLOV stock has been on the rise recently. This, combined with the strong technical breakout and growing retail support, could see Clover health extend on yesterdays gains.
CLOV Price Forecast
The daily chart shows the Clover Health stock price has broken above $10.00 resistance. Furthermore, it has also cleared the 200-day moving average at $9.90. Additionally, the Moving Average Convergence Divergence Indicator (MACD) highlights growing bullish momentum. As well as the relative Strength Index pointing higher. These positive factors lead me to believe the price may extend towards the July $15.10 high.
However, this bullish outlook relies on CLOVE holding above $9.90. A drop below the 200 DMA would signal a reversal in sentiment and a breach of the $10.00 support. And on that basis, the bullish view becomes invalid below $9.90.
Clover Health Stock Price Chart (daily)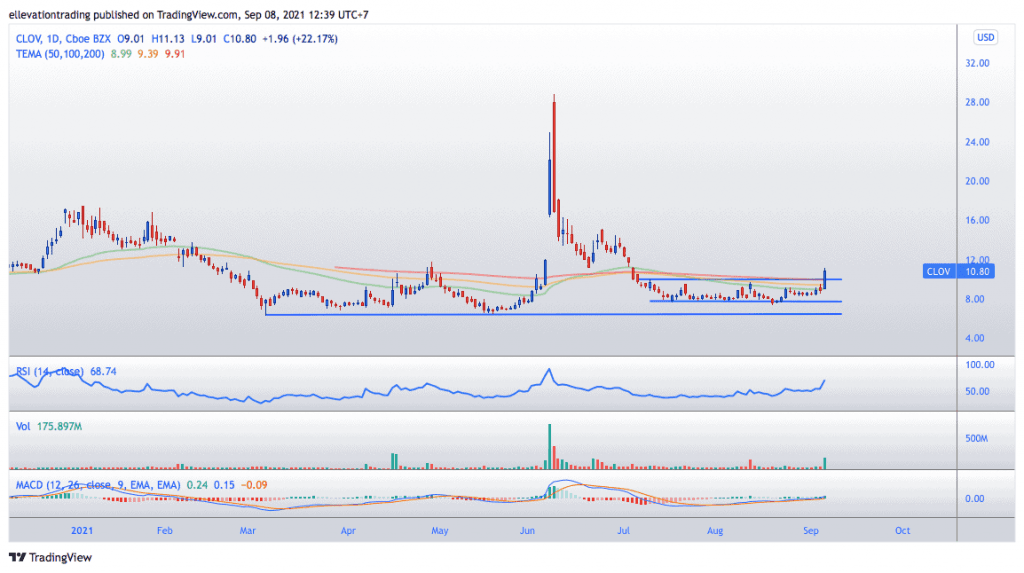 For more market insights, follow Elliott on Twitter.