The Chainlink price suffered heavy losses yesterday, sliding 35%, as a wave of selling crushed the cryptocurrency market. Chainlink (LINK/USD) reversed from a four-month high as the crypto market succumbed to waves of liquidation, which shaved almost $400 billion from its combined market cap in a matter of hours.
The day started reasonably brightly, Bitcoin (BTC/USD) was changing hands around $52,000, Ethereum (ETH/USD) trading just under $4k, and LINK was working towards its best price since May. However, by late afternoon, sentiment had taken a severe beating. After losing the $50k threshold, Bitcoin accelerated to the downside, losing 17% at its worst. Ethreum lost even more. After spending the early part of the day nudging $4,000, Ethereum was now knocking on the door of $3,000. This sent shockwaves across the market and many altcoins tumbling. At yesterday's low point, the Chainlink price was down more than 36% from Mondays high. Furthermore, it had lost trend line support and slipped below the major moving averages.
But just when it appeared a repeat of May's crypto collapse was on the cards, the tide turned. Bitcoin's rebound to $47,000 instigated a broad reversal in altcoins. As a result, Chainlink climbed from a $23.50 intraday low to finish the day down 19% at $28.22. So what happens now?
LINK/USD Price Forecast
Despite the sharp decline yesterday, the daily chart remains constructive. The strong recovery in the second half of the day saw LINK recover the 50-day moving average at $26.05, the 100 at $25.36 and the 200 DMA at $24.84. This is encouraging and indicates the bull market is intact. Furthermore, LINK closed above the former trend breakout level of $26.14, which is now the first level of support.
As long as the Chainlink price holds the trend and moving averages today, this should be viewed as a victory for the bulls. Emboldened by this, LINK may go on to set a new cycle high above $37.13 in the coming sessions.
However, the market remains vulnerable to a continuation of yesterdays selling. And on that basis, caution is necessary. If the Chainlink price slides below the 200-day moving for a second time this week, it will invalidate the recovery thesis. Furthermore, it could lead to a march larger liquidation event.
Chainlink Price Chart (Daily)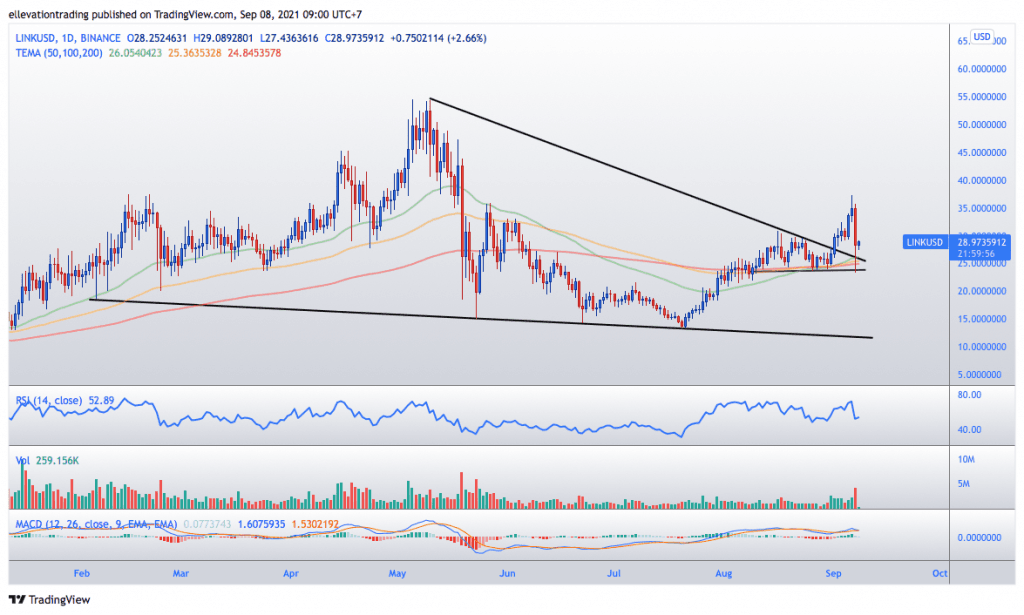 For more market insights, follow Elliott on Twitter.