The Chainlink price is inching higher on Thursday as LINK attempts to gather some bullish momentum to finish the year strong.
In early trading on Thursday, Chainlink (LINK) is slightly higher at $20.52 (+3.00%). This morning's moderate strength has increased the gains from the December low to +23%, although LINK remains 45% below the November high. Over the last six weeks, the poor performance has wiped around $7 billion from Chailink's market, which now stands at $9.5 billion, ranking LINK the 20th most valuable cryptocurrency behind Uniswap.
Like many cryptocurrencies, Chainlink is fighting to recover from the heavy selling that started in November. Bitcoin's reversal from the $69,000 all-time high marked the start of a bear market for Chainlink. The selling reached a nadir on December 4th as BTC flash-crashed to $42,000, wiping out over $2 billion of leveraged BTC long positions. As a result, LINK briefly hit a five-month low of $16.73 before bouncing to $23.20. Unfortunately, the bounce duly faded, sending the Chainlink price back below $20.00. However, LINK has firmed in the last couple of days, and this morning attempts to clear the 50-Day Moving Average.
LINK Price Forecast
The daily chart shows LINK is grappling with the 50-DMA at $20.67. Successful clearance of the momentum indicator (on a closing basis) should extend the price towards the 100-DMA at $25.31.
However, Bitcoin has reversed around $1,400 from yesterday's high and looks likely to head lower. In that event, the Chainlink price could change course. Furthermore, failure to close above the 50-DMA would suggest fatigue, potentially leading to a reversal into the $17.50-$18.00 range.
Chainlink Price Chart (Daily)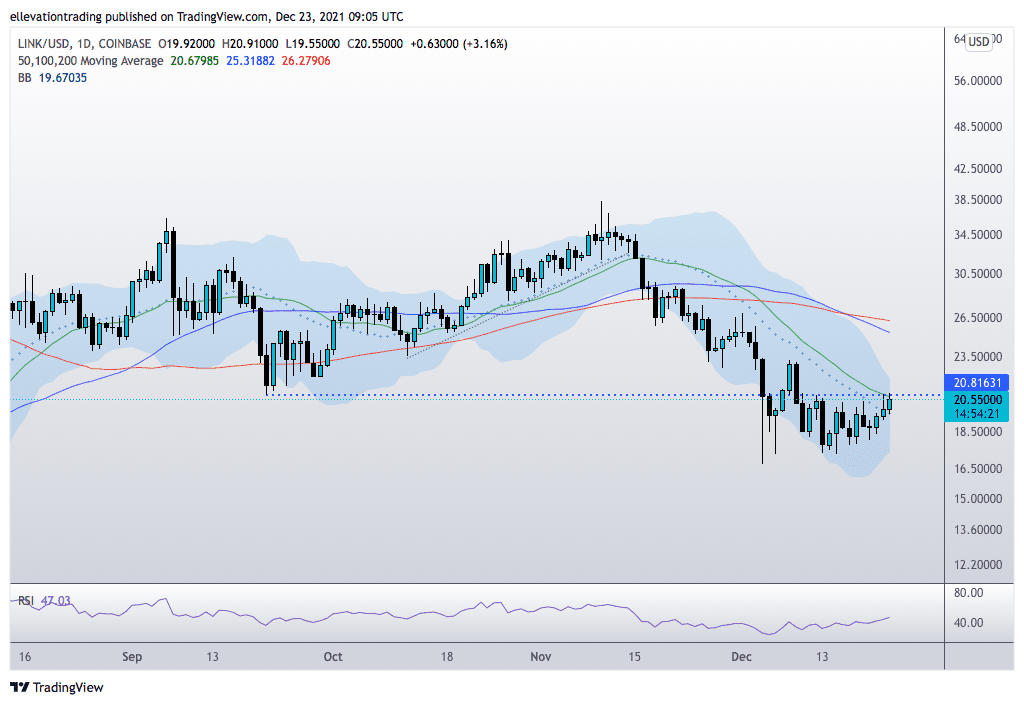 For more market insights, follow Elliott on Twitter.