The Carnival share price faced heavy selling pressure towards the end of last week, forcing the stock below the crucial 200-day moving average. After spending a week threatening to break down, Carnival finally succumbed on Friday, losing 55p, finishing the week at 1,526.2p.
Following Friday's poor technical close, Carnival Plc (LON: CCL) is set to start this week firmly on the backfoot. Considering the headwinds the company is facing, up until now, the price has held up remarkably well. Coming into last week, Carnival had been trending higher for six weeks, gaining almost 25%. However, that winning streak may now be under threat.
The company has been the subject of negative press recently. A lawsuit has been filed claiming negligence during last years Covid outbreak. More than 50 of the passengers aboard the Princess ship allege the cruise line company failed to heed the warnings of the onboard doctor who expressed concerns about flu-like symptoms amongst passengers.
This comes at a bad time for the Carnival share price, which despite a return uptick, is still around 70% below its 2017 high of 5,399p.
Technical Analysis
The daily chart shows that Carnival has been trending higher in a rising wedge pattern. Last week's failure to break the top end of the pattern at 1,613p has caused the price to reversed below the 50, 100 and 200-day moving averages.
As a result, CCL should now extend lower to test the support offered by the bottom end of the wedge at 1,481p if the price drops below 1,481p, an extension to the August low of 1,371p looks likely. Following that, July's trough low of 1,259p comes into view.
As long as the Carnival share price remains below the 200 DMA at 1,535p, it should trade negatively. On that basis, a close above 1,535p would be a positive development, negating the bearish view.
Carnival Share Price Chart (Daily)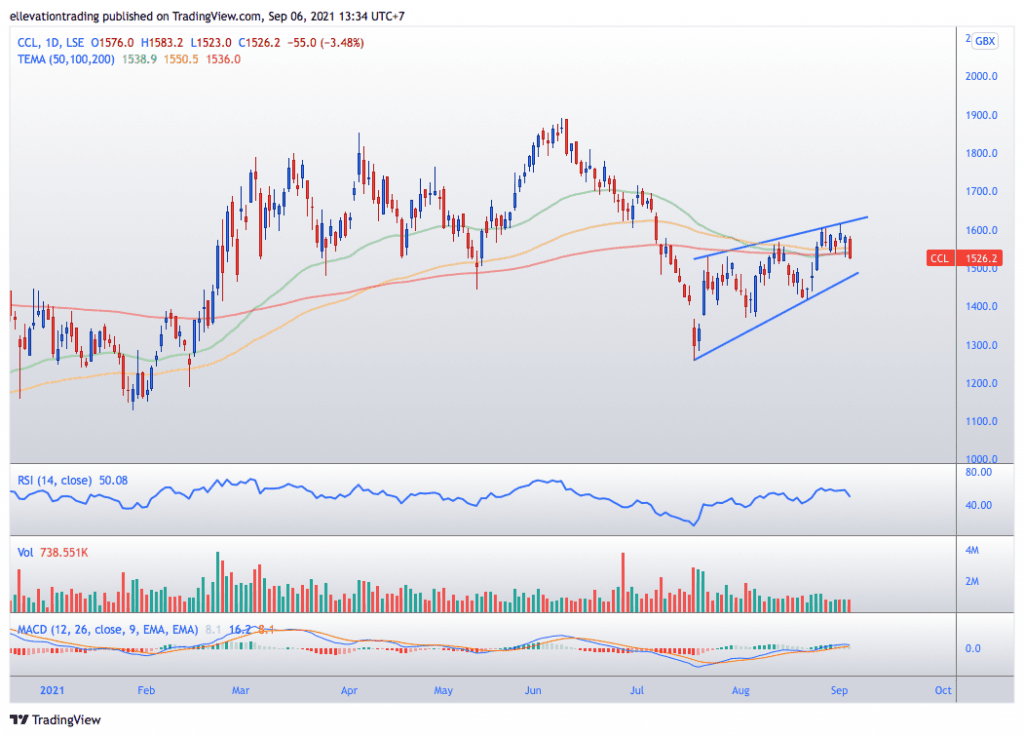 For more market insights, follow Elliott on Twitter.