The Cardano price has reversed almost 10% from its' high over the weekend, increasing the odds of a material correction. Cardano (ADA) is trading at $1.816 (-1.00%) in Asian hours on Monday, down 11.7% in the last seven days and -7.60% in November. The ADA token's current market cap sits at $60.6 billion, ranking it the sixth-largest cryptocurrency behind Solana (SOL).
The cryptocurrency market as a whole has seen mixed results in November. At the start of the month, a considerable influx of capital lifted the crypto market's valuation to a record $3 Trillion. However, since then, Bitcoin (BTC) has given back $11,000 (-16.5%) from the $69,000 all-time high set on the 10th. As a result, the broader market has lost around $400 billion in value over the last 12 days. At the same time, ADA has fallen almost 24%, which leaves the price 42% adrift from September's record of $3.160. Furthermore, yesterdays -4.55% drop has forced the price back below the 200-Day Moving Average (DMA) at $1.879, which suggests the downtrend may continue.
ADA Price Analysis
The daily chart shows the Cardano price is trending lower in a descending wedge pattern. As long as ADA remains below the 200-DMA, a logical destination is the bottom of the wedge at $1.670. And if Cardano fails to hold the trend support at $1.670, an extension towards the summer lows, just above $1.000, looks probable.
The price needs to recover the 200-DMA to reverse the bearish sentiment. In that event, trend resistance at $2.020 is the first hurdle for the bulls to overcome. Above that, the 50-DMA at $2.073 and the 100-Day at $2.268 are the next levels to watch.
In my opinion, the bearish argument carries more weight. Therefore, I expect the price will test trend support at $1.670 in the days ahead. Furthermore, as long the price remains below the 200-DMA, a drop towards $1.000 can't be ruled out. On that basis, a close above the 200-DMA at $1.879 invalidates this theory.
Cardano Price Chart (Daily)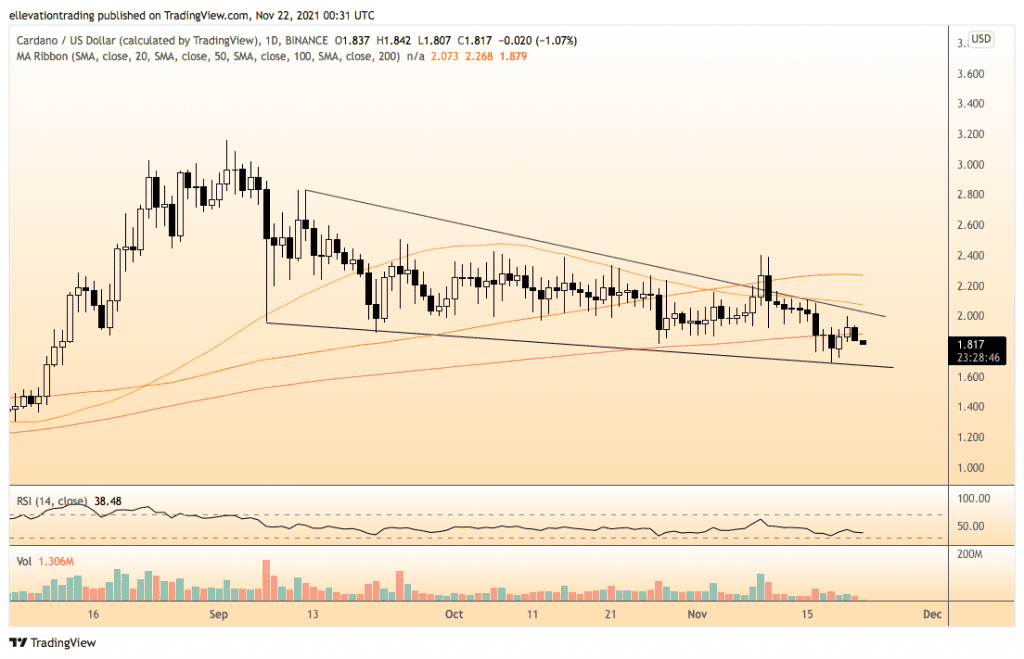 For more market insights, follow Elliott on Twitter.