The Cardano price is surprisingly quiet on Monday despite some recent positive announcements. ADA is trading at $2.20 (-0.40%), around 10% lower than Friday's high and 30% below September's record price. It's fair to say that, following the Alonzo upgrade, the ADA price action has been disappointing, but the bulls may be encouraged that Cardano is making progress.
On Saturday, Cardano (ADA) Founder Charles Hoskinson announced that TV and telecom provider Dish network will integrate Cardano into its business. Furthermore, Cointelegraph reported the Ethereum rival will work alongside Chainlink (LINK) to help developers expand Cardano's decentralized Finance (DeFi) ecosystem.
A tough week for Cryptocurrencies
The crypto market has had to absorb its fair share of negativity over the last seven days. At the start of last week, the Evergande default prompted heavy selling across the cryptocurrency complex. On Monday and Tuesday, Bitcoin (BTC) lost 9%, forcing the Cardano price 18% lower, to $1.97. However, over the next three days, ADA climbed 30% and by Friday was back above May's former record of $2.47, before the FUD kicked in.
Late Friday, the Chinese government announced its latest crackdown on cryptocurrencies. However, the news appeared to be recycled and a rehash of previous Crypto restrictions. Nonetheless, the market sold off initially, and Cardano slipped to $2.14 before recovering to $2.30.
ADA Price Analysis
The four-hour chart shows that ADA has been trending lower since making the $3.10 high at the start of the month. As a result, a descending triangle pattern has formed. The underside of the triangle at $1.88 offers support, whilst the descending top edge at $2.40 is resistance.
Additionally, in the last week, a rising bear flag has emerged. The rising trend line at the bottom of the flag offers immediate support at $2.18. Should the Cardano price slide below $2.18, a return to $1.88 looks probable. However, if trend support holds, ADA may head higher to the trend resistance, at $2.40. Above $2.40, and Cardano should extend to the double-top at $2.80.
Cardano Price Chart (Daily)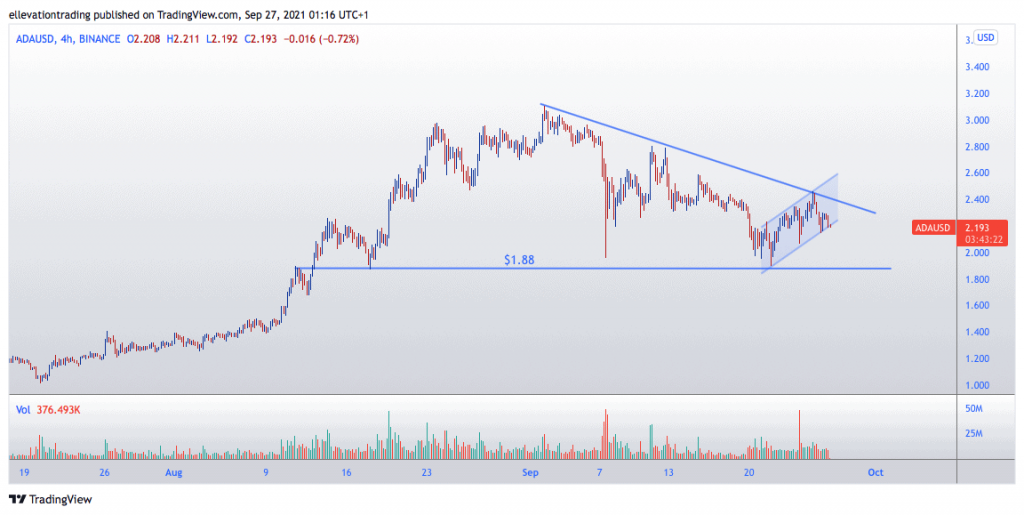 For more market insights, follow Elliott on Twitter.