Despite Bitcoin reaching a new record, the Cardano price hasn't budged in October and is trading at the same price it started the month. Cardano (ADA/USD) has largely ignored the excitement in the cryptocurrency market recently. The ADA token has considerably underperformed its closes rivals Bitcoin, Ethereum, and Binance Coin. Cardano is still the fourth most valuable cryptocurrency, with a market cap of around $70 billion. However, ADA's poor performance leaves it almost $10b behind third-placed Binance Coin.
Last week, the launch of the ProShares Bitcoin ETF (BITO) lifted the market leader to a record price of $66,999, which helped the cryptocurrency market reach a record valuation of just under $2.7 trillion. However, the Cardano price lacked positive momentum and remained anchored in the $2.00-$2.30 range. Furthermore, BTC has reversed 10% from the highs and is in danger of falling below the psychological $60k barrier, which should exert downward pressure on the whole market. In that event, Cardano could be vulnerable to losing the $2.00 support.
ADA Price Forecast
The daily chart highlights the ADA tokens apparent lack of direction. Following September's high of $3.16, the price has been trending lower, and as a result, a symmetrical triangle formation offers support at $2.00 and resistance at $2.26. The 50-day moving average (DMA) at $2.263 reinforces the trend resistance. Whereas the more significant 100 DMA at $2.10 adds to the support.
Until the Cardano price clears the upside resistance or loses downside support, it's unclear which direction will follow. A bullish scenario emerges above $2.263, which may provide enough uplift to challenge the September high. On the other hand, if ADA loses trend support at $2.00, a trip to the 200 DMA at $1.784 looks probable. Presently, I would put the odds of either playing out at 50/50. For that reason, I maintain a neutral outlook on the price until either trend breaks.
Cardano Price Chart (Daily)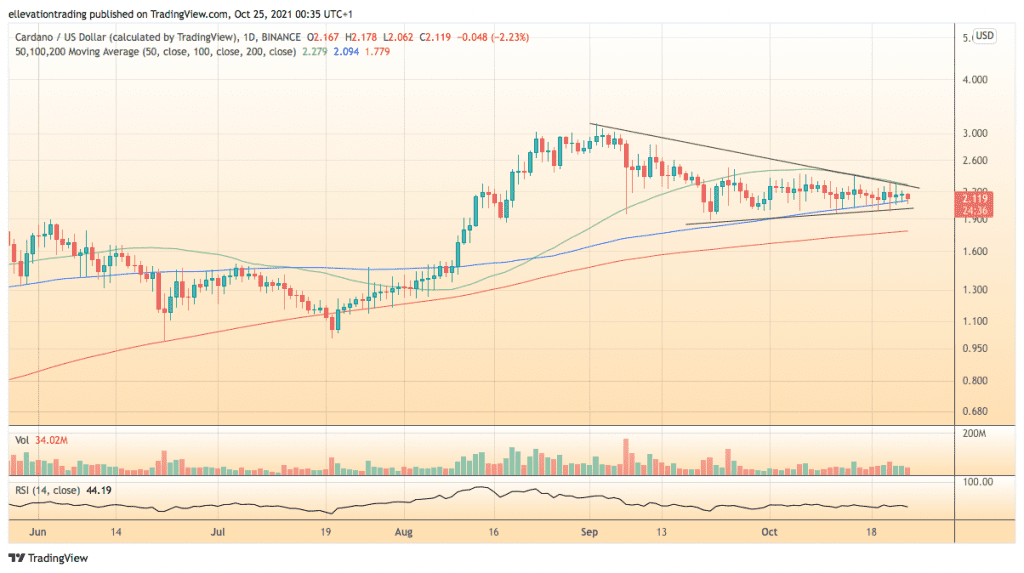 For more market insights, follow Elliott on Twitter.