This article walks through the Cardano price action in 2021 and discusses the technical outlook and challenges for the year ahead.
Although Cardano (ADA) has lost 55% of its value since September, the ADA token is on track to finish the year around 600% higher. And whilst the current conditions are challenging, long-term holders have been well rewarded in 2021. Cardano's market cap has grown from approximately $5 billion at the start of the year to around $45 billion at writing. Furthermore, the layer-1 blockchain has established itself as a mega-cap cryptocurrency.
Approaching the Alonzo hard fork in September, Cardano's market cap surged to almost $100 billion, ranking Cardano the 3rd most-valuable crypto, behind Bitcoin and Etherum. However, ADA has slipped down the rankings since, placing 7th behind Ripple.
Several factors are responsible for the weakness in Q3. Notably, the Alonzo upgrade failed to attract significant projects to the chain. Furthermore, rival layer-1's like Solana and Avalanche have emerged as investor favourites recently. Nonetheless, Cardano continues to progress towards its longer-term goals, including the upcoming Basho upgrade.
The next stage of Cardano's development, Basho, introduces sidechains to improve scalability, and according to the website,
'will see Cardano become one of the most high performance, resilient, and flexible blockchain platforms in the industry.'
However, with no scheduled release date, Cardano is in danger of being left behind in Q1 2022.
ADA Long-Term technicals
The weekly chart shows the Cardano price surged in February after clearing the former all-time high of $0.387. Furthermore, ADA experienced substantial uplift into May before the Chinese mining ban triggered a widespread crypto collapse. Buying picked up again in August ahead of the Alonzo upgrade, leading to a new ATH of $3.13. However, the chart highlights the three-month downtrend starting September.
In my opinion, the weakness in Q3 has dented the long-term technical outlook. ADA is trading below the 50-Week Moving Average (WMA) at $1.90 and the 100-WMA at $1.55. Furthermore, the price has fallen out of its long-term uptrend. As a result, an extension down to the April low of $0.92 and potentially the 200-WMA at $0.82 is possible.
I expect Cardano's underperformance to continue in the new year, targeting $0.82. However, the technical outlook improves if ADA reclaims its uptrend and the 100-WMA. Therefore, a weekly close above $1.55 invalidates the bearish thesis.
Cardano Price Chart (Weekly)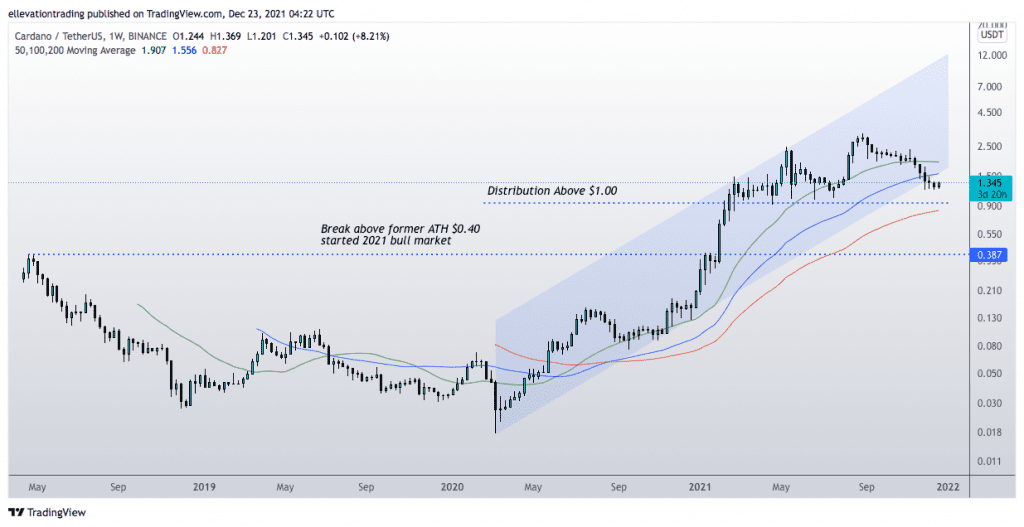 For more market insights, follow Elliott on Twitter.