The Kadena price resumed its upwards assault on Wednesday, jumping 20% to test a significant resistance level. And how Kadena (KDA) fares at the critical resistance has the potential to ignite an explosive move in either direction.
The KDA token has been highly volatile in October. In the first week of the month, the price experienced a parabolic extension higher, adding over 250%, before collapsing 49% on the 8th. However, buyers have returned over the last two days, lifting the price from $13.20 to $21.50. Subsequently, KDA's total value has risen to $3.44 billion, ranking it the 55th-largest cryptocurrency ahead of THORChain (RUNE). But the recent uplift has left the Kadena price stretched, which raises the odds of another steep correction.
KDA Price Analysis
The 2-hour price chart shows that KDA is testing horizontal resistance at $23.00 this morning. So far, the resistance is holding, which could be decisive. However, if KDA clears $23.00, it should extend towards the all-time high of $25.88. Furthermore, above $25.88, KDA will enter price discovery mode, potentially sending the price skywards.
However, the Relative Strength Index (RSI) is rolling over, indicating the rally is fading. Furthermore, if KDA's attempt to clear $23.00 is unsuccessful, a reversal into the $16.00-$17.00 range is possible. Therefore, I consider $23.00 a fundamental level for both the bulls and the bears.
In my opinion, the bearish scenario appears the likeliest outcome, considering KDA's recent performance. On that basis, I am bearish in the short term, with a $17.00 price target. However, a decisive clearance of $23.00 invalidates this thesis.
Kadena Price Chart (2-Hour)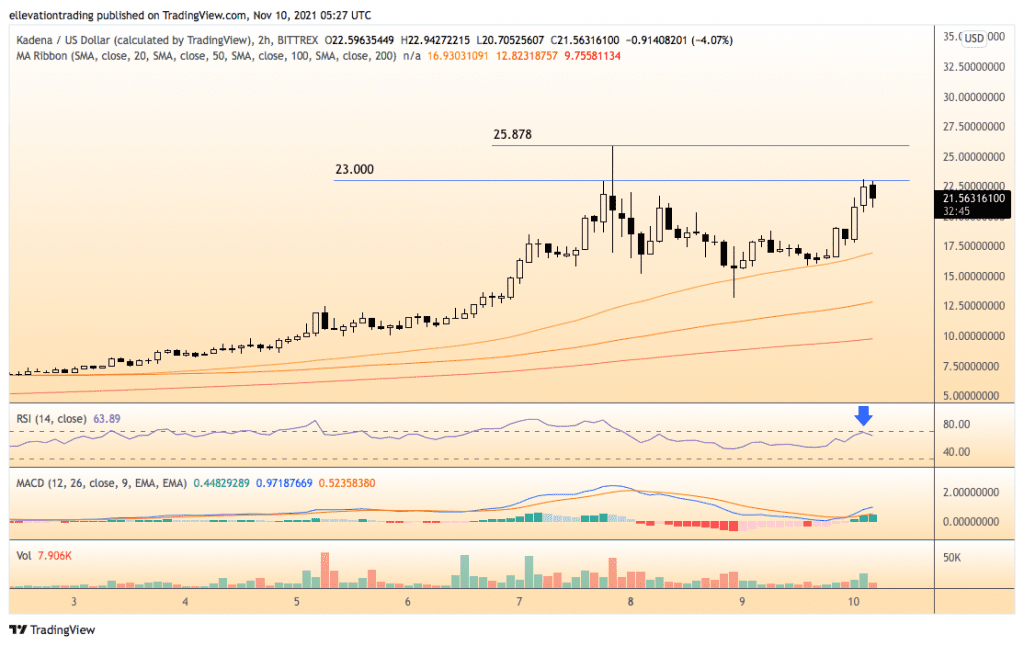 For more market insights, follow Elliott on Twitter.