On Monday, European shares and DAX Index (INDEXDB: DAX) faced a decline as investors grew concerned about the global interest rate hike cycle potentially lasting longer than anticipated. This weighed on technology and real estate shares, which are sensitive to interest rates. The DAX index in Germany fell by 0.8% despite the positive news of industrial orders in the country beating forecasts in December. Meanwhile, the FTSE 100 also dropped by 0.8%. The UK stocks also faced a decline on Monday.
Despite a strong rebound in German factory orders, with a 3.2% increase in December, investors remained concerned about the rising Sino-U.S. geopolitical tensions and the global economic outlook.
Friday's robust U.S. jobs data led to speculation that the Federal Reserve might increase interest rates further to control inflation. This, combined with the European Central Bank's recent rate hike, has raised fears that growth in both the U.S. and Europe could stall this year. This would negatively affect the quarterly earnings reports of the major organizations.
The hawkish talk from the policymakers has added to the concerns of investors, leading to the decline in European share prices.
DAX Index Price Forecast
Unlike other major indices, DAX Index (INDEXDB: DAX) appears to be in a great position to make an all-time high. Since September 2022, DAX has risen by around 31%. The German Bluechip tracking index has also broken above the key psychological level of 15,000 and is gaining strength.
It has also successfully flipped the August 2022 resistance of 13,900 into support. Just below this level there also lies the 200-day moving average which also acts as a strong support. If this level holds then DAX looks destined to retest its 2021 all-time high in 2023.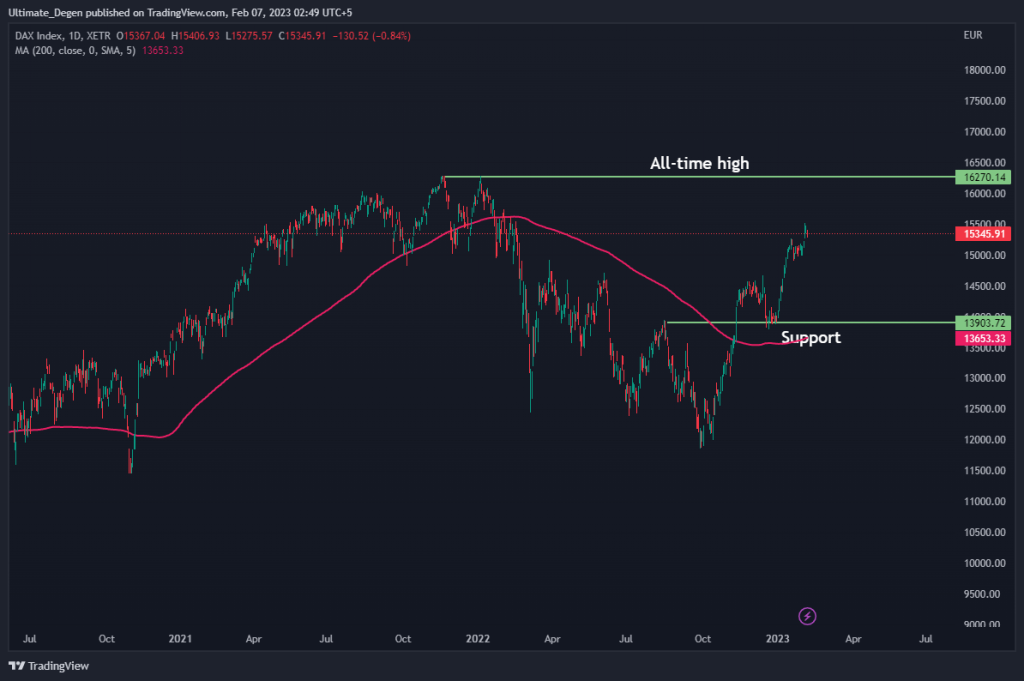 However, this would only be possible if Jerome Powell miraculously carries a soft landing by avoiding recession. Another decisive factor would be the timing of the Fed pivot and the rate decrease.
In short, DAX Index appears to be very strong as the blue-chip industries of Europe's biggest economy are thriving. Nevertheless, it could all change soon if the US economy enters a recession. Such a scenario is likely to trigger similar slumps in other markets across the globe like in 2008.