C3.ai stock price continues its downward momentum, which started back in August. The stock of the AI developer made a lower high of $28.83 at the end of August before plunging 27.5% further. At the time of writing, C3.ai shares are trading at $24.25 in the final trading session of the week.
The AI hype that started with the launch of ChatGPT appears to be fading away. Nvidia, which acted as a flagship stock of the AI rally, has slid 18.3% from its yearly peak. This triggered a sell-off in the stocks of small AI companies like C3.ai as well. NASDAQ: AI is down 45.5% from its August highs.
C3.ai Partners Up With ESG Books
On Wednesday, C3.ai announced that it will integrate its AI applications with ESG's sustainability data to provide improved analytics to businesses. The partnership also plans to automate and manage risks related to ESG and ensure efficient collection and management of data.
Last month, C3.ai announced $61.35 million as their revenue for the first quarter. This amount not only represented a 6.1% decline but also was 14.14% under the analyst's expectations of $71.46 million. A $0.09 loss on share was also reported as compared to a loss of 0.12 during the same period last year. As a result, the C3 stock price fell 24% right after the earnings call.
C3.ai Stock Price Forecast
C3.AI stock price has been in a tailspin since making its yearly highs in June 2023. After the release of its Q3 financial results, the selling pressure further intensified as bears gained control of the AI stock. The stock also slipped below the 200 MA, which lies at $26.58.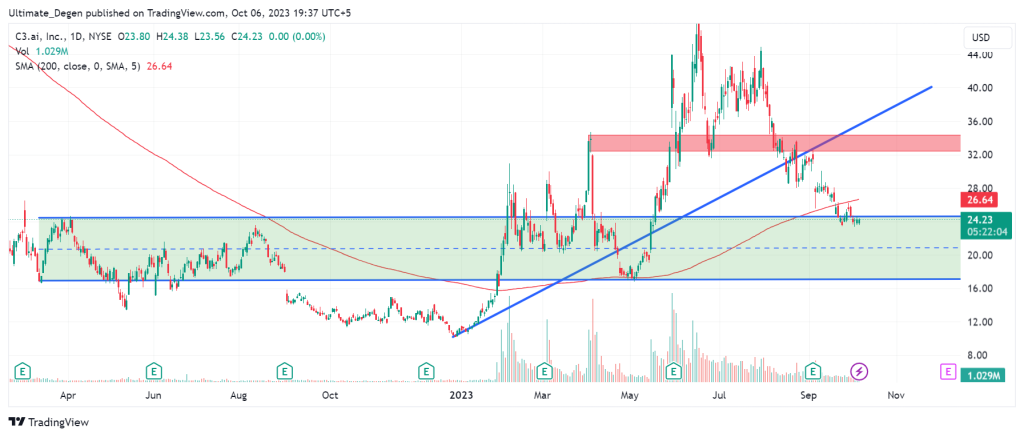 The price seems to have gained acceptance below the previous range high of $24.5. If the bulls fail to gain strength above the 200 MA, a retest of the range low around $17 might be on the cards. For the C3.ai stock price forecast to flip bullish, the price must reclaim the $26.58 price level soon.