The Green Metaverse token has hit new all-time highs a few weeks after it was listed for the first time. This move has spurred new bullish GMT price predictions, as the token aims to close the day in the green column for the 6th straight day. 
Buyers thronged exchanges and snapped up the token in droves after Easter Monday's huge 31.74% gain. The bullish activity on the Green Metaverse Token has translated into another 15.53% gain this Tuesday, allowing the GMT/USDT pair to hit new all-time highs at 3.7500. The GMT/USDT pair has gained nearly 420% in the last month.
GMT is the governance token of the STEPN project, a Web3.0 compatible lifestyle app that incorporates social elements with a GameFi design. Users can earn NFT sneakers to be used in the gameplay, while the reward token of STEPN (GST) is used to mint new sneakers or unlock higher levels in the gameplays. Currently, the Green Metaverse Token is number 2 among the top 10 projects on the Binance Chain by price performance over the last seven days.
The 4-hour chart shows that the breach of the 3.16075 resistance was followed by a brief return move which was rejected at the same price mark, now functioning as a support. Renewed buying occurred on the 1200 hours candle, allowing the Green Metaverse Token to inch higher.
GMT Price Prediction
The prevailing GMT price prediction could see the token hitting an initial target at the 3.85981 price mark, which is the 100% Fibonacci extension level from the price swing of 17 March to 1 April and back to the 7 April 2022 low. Above this level, additional resistance is expected to come in at the 127.2% Fibonacci extension level (4.34531), and the 4.59876 price level (141.4% Fibonacci extension).
On the flip side, there is the potential for correction to follow once the price hits the 3.85981 resistance. This correction may find support at the 3.16075 mark (1 April high and 17 April low). If this correction move extends below this point, additional support may come in at 2.70674 (6 April high), or at the 2.08839 price level (4 April and 13 April lows).
GMT/USDT: Daily Chart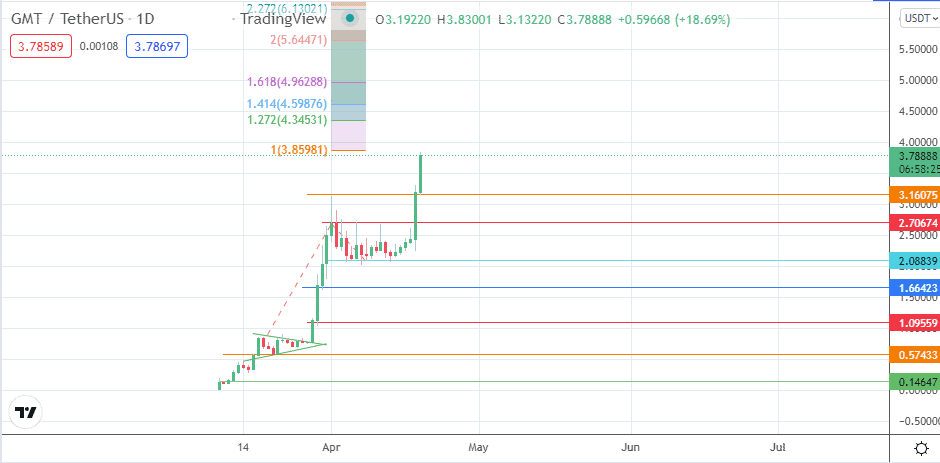 Follow Eno on Twitter.