The shares of the British telecom giant, BT plc are once again retesting a major demand zone on their chart. The 111p-113p region has resulted in multiple bounces in the past. However, with each retest, the demand at this level is weakening.
On Wednesday, the UK shares are showing a mixed sentiment. The benchmark FTSE 100 index is trading sideways since the start of today's session. However, BT shares are up 1.08% after retesting their September lows during the opening hours.
Numis Upgrades BT PLC
In one of the most recent developments, Numis has upgrades the rating of BT share price from 'Sell' to 'Hold'. The change comes when the stock is retesting a key support level. BT plc is facing growth concerns due to CEO transitioning. Allison Kirkby will be replacing Philip Jansen as the new CEO at the end of January 2024.
Berenberg doesn't expect H1 results of BT plc to contain any major strategic updates. This is due to the upcoming change in the firm's leadership. Brenberg shared this outlook in a note on Monday. The next CEO Kirkby will be joining BT from Swedish telecommunication company, Telia.
LON: BT.A Technical Analysis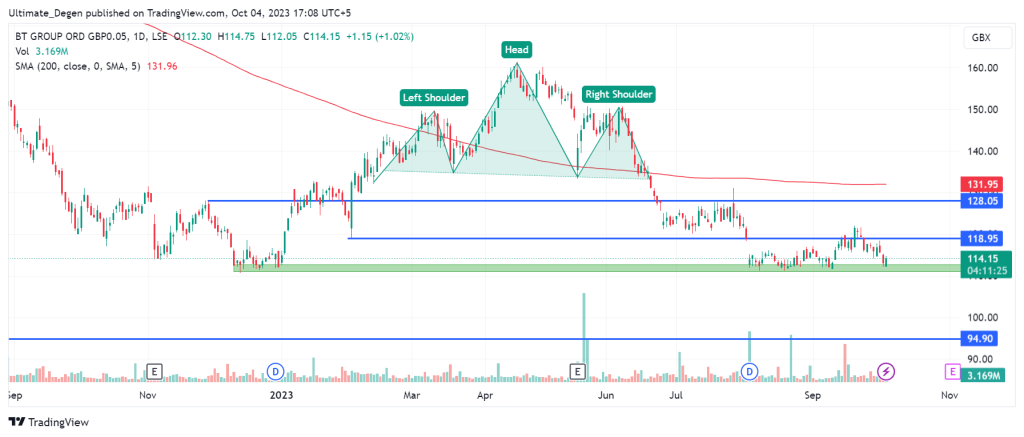 You are also welcome to follow me on Twitter, where I predicted the ongoing slump in BT shares 3 months ago.
BT Share Price Forecast
A higher timeframe technical analysis of LON: BT.A chart shows that the 111p-113p demand zone has been retested multiple times this year. A breakdown below this region will be catastrophic for BT share price forecast, putting the downside target of 95p on the cards.
In case of another rebound from the current level, the 119p level will be the biggest resistance for the bulls. The border market sentiment and the strength in the FTSE 100 index will also impact the stock price of the British telco in the coming weeks. The shares are down 29% from their yearly highs.