BT share price is facing strong headwinds from the sticky inflation and economic tightening. After the recent trend reversal in the FTSE 100 index there has been an across the board increase in the selling pressure in the markets. This bearishness has caused the stock of the BT Group to plunge to its fresh yearly lows.
On Monday, the FTSE 100 index posted another 27 points loss as the miners led losses. This translated into a fresh 2-month lows for the benchmark index of the UK stock market. The prevailing bearish sentiment also sent BT shares to their lowest level since December 2022.
The shares of the telecom giant closed the first trading session of the day at 110.7p. This level is the bottom of a major demand zone which has been repeatedly mentioned in my previous analysis. Considering the momentum behind the current bearish push, the outlook is not looking very positive.
According to the latest news, BT Group has recently tested 5G technology with Nokia and MediaTek. The successful field tests involved the Reduced Capability (RedCap) technology at BT Group's Adastral Park site. MediaTek's RedCap testing platform was also utilized during this process.
Let's take a deeper look at the BT share price with the help of advanced technical analysis.
LON: BT Chart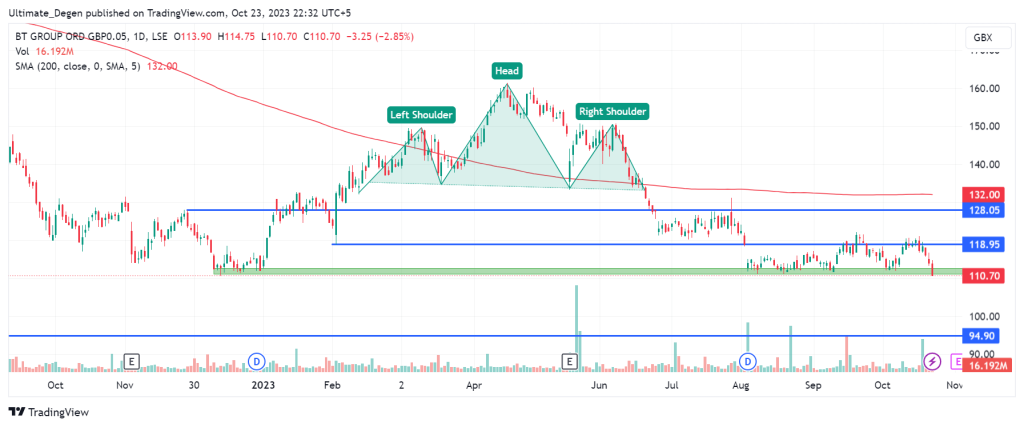 BT Share Price Analysis
In my last analysis, I explicitly mentioned a retest of the 110p-112p demand zone. This retest is occurring right now but the bearish momentum is much more than my expectations. An acceptance below this demand zone may result in a sharp sell-off till 95p which is the next possible support level.
This also means that BT share price forecast is looking very bearish and a breakdown below 110p may result in a long bearish consolidation. While there is some bullish divergence on the RSI and MFI indicators, I won't be entering any long until a reclaim of 118p resistance.