Brent crude oil price opened higher on Monday after closing last week at $84.43. The price surged to $89 before suffering a 1.84% pullback. At press time, Brent oil price was trading at $87.3, which was 3.45% above its last week's lows.
Oil prices are expected to rise further if the Israel-Hamas conflict turns into a major escalation in the Middle East. Side by side, bonds are also expected to outperform the equity markets as investors rush to minimize risk on their investments. Brent crude price had a major pullback last week due to the rising bond yields and strengthening US dollar.
Iranian Crude Oil Supply To Be Affected
According to Goldman Sachs, stricter sanctions are likely to be imposed on Iran due to its support for Hamas. The American bank also expected a $1 per barrel increase for every 100,000 barrels per day decline in the production of oil by Iran.
Several analysts also predict the Brent crude oil price to reach the $100 mark in the short term as oil exports by Iran are expected to decrease. The oil price already opened about 2.3% above its last week after the escalation in the Middle East. Currently, the price is trading 7.82% below its yearly high of $96.
Brent Crude Technical Analysis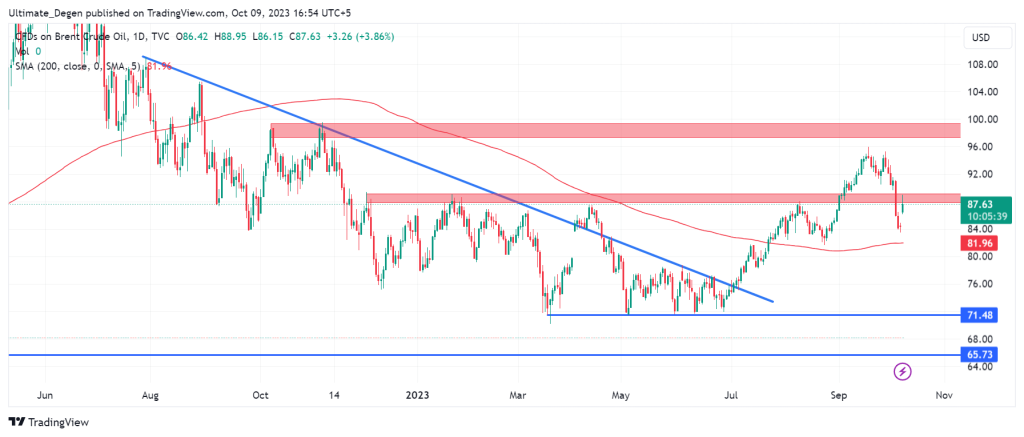 Brent Crude Oil Price Forecast
As mentioned in my previous analysis of UKOIL, there is strong resistance above the $88 level. This supply zone has resulted in multiple rejections since the start of this year. In September, the price broke above $88, but the bullish momentum faded above $95, and the price was pushed back under the key level.
In case of another rejection from this level, a retest of the 200 MA will be on the cards in the coming weeks. However, the macro factors indicate a supply shortage in the coming weeks, which may make Brent crude oil prediction bullish once again. A confirmation of this prediction will be a break above its yearly high of $96.