The BP share price has added 4% so far this week after traders baulked at the US Government plan to release oil from state reserves. BP Plc (LON: BP) closed out Tuesday 5p higher at 339.4p (+1.50%) as investors wager the government's plan to dampen energy prices will have limited effect.
The falling oil price and a rampant US Dollar has weighed heavily on BP over the last few weeks. At last week's low, the shares had retreated 11.50% from October's 17-month high as traders built short positions on fears of a coordinated effort to improve oil supply.
However, on Tuesday, Joe Biden's announcement that the US will follow China's lead and release 50 million barrels of oil from the Strategic Petroleum Reserves (SPR) hardly made a dent in WTI crude price. Subsequently, WTI shows strength this morning and looks likely to push above $80.00 in the coming sessions. Using the same logic that lower oil prices are bad for BP, we can assume the share price will benefit if Crude continues to trade higher.
Price Forecast
The daily chart shows the BP share price is trending higher above the 100 and 200-Day Moving Averages. However, yesterday's rally reversed from the 50-DMA at 341.78p. But successful clearance of the lesser of the three significant moving averages should encourage momentum buying.
On the upside, the November high of 350.6p is the first notable resistance level. At the same time, an extended rally could lift the price towards the October high.
However, a close below the 200-DMA would signal a breakdown. Therefore, the bullish view becomes invalid on a daily close below 313.32p.
BP Share Price Chart (Daily)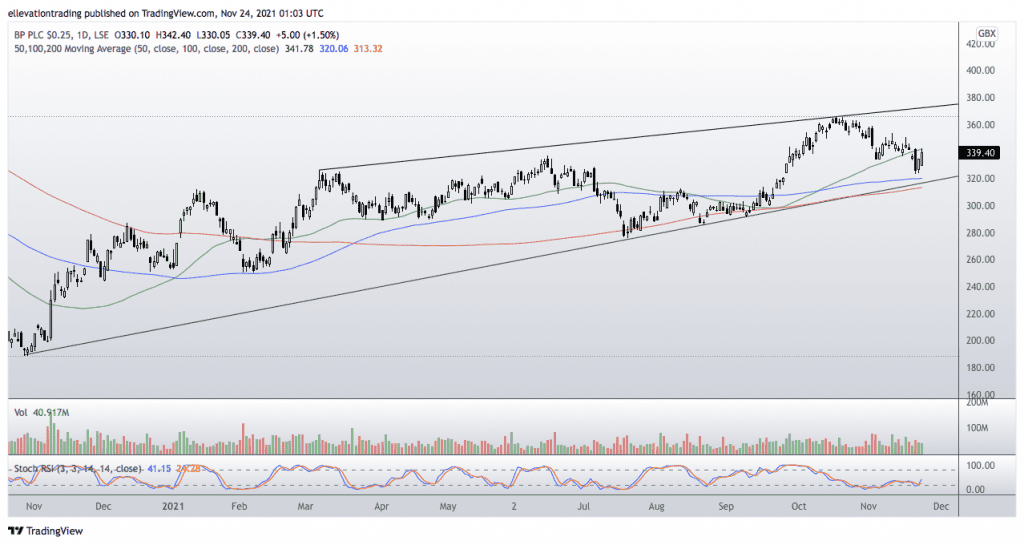 For more market insights, follow Elliott on Twitter.