BP share price opened almost 3% higher from last week's close and is now changing hands at 520p. The shares of the British energy company suffered an 8.5% correction last week due to a pullback in oil prices and several key executives exiting from the firm.
LON: BP opened the week in the green as the UK-listed energy shares caught a bid due to the ongoing conflict in the Middle East. Oil prices also rose 3% from their last week's close as investors expected Iran to reduce its oil exports in the coming weeks.
BP Sets Up Renewable Energy Plant In US
Last week, the British oil and gas company BP plc announced the start of a renewable energy power plant in the US. The powerplant will capture gases from a nearby landfill and will convert them into electricity. The energy plant has the capability to produce heat for 13,026 homes by processing 3,200 cubic feet of landfill gas every minute.
Many investment banks appear to be bullish on the shares of BP. Goldman Sachs is also among them, as the American investment bank increased its price target for BP share price from 650p to 660p. The bank also reiterated its "buy" rating for the shares of the London-listed energy company.
LON: BP Technical Analysis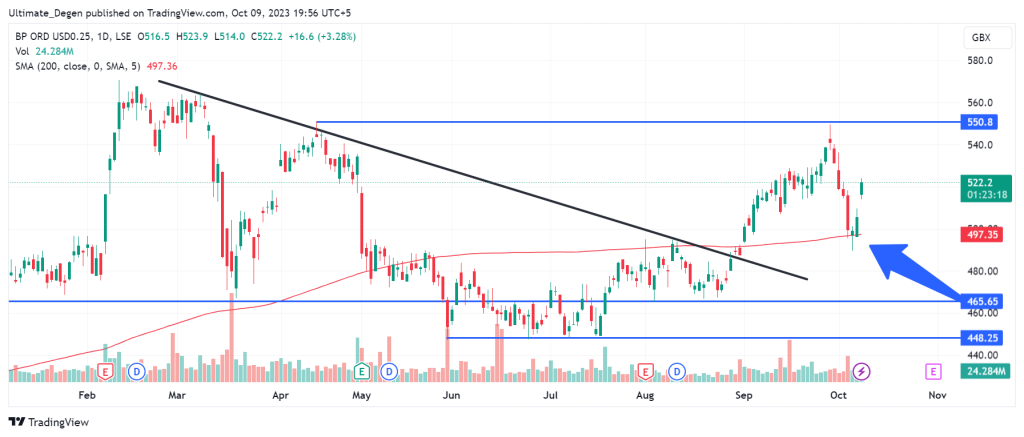 BP Share Price Forecast
As I predicted previously, LON: BP has rebounded 4.6% from the 200 MA. Last week, the shares fell under the 200 MA, but the bulls successfully prevented a closure below the 200 MA. The shares of the oil company are now trading 3% higher from Friday's close and sit 8.3% below their yearly highs.
Due to the ongoing supply cuts from OPEC+ and a reduction in oil exports from Iran, the shares of oil companies are getting strong tailwinds. However, my BP share price forecast will remain bearish until the reclaim of 551p, which is the April 2023 high.