The BP share price has been in the spotlight this week as investors reflected on multiple catalysts for the company. Initially, the stock crashed to a multi-month low of 350p on Monday and then rebounded to 363p. Still, the stock remains about 13% below the year-to-date high while its American peers like Chevron and ExxonMobil jumped to the highest level this year.
BP's management decided to take a steep loss when it announced that it will end its relationship with Rosneft. Rosneft is a giant company that is also a key supplier to the Russian military. The company exits Russia, a country where it has operated in for more than three decades. 
BP news today
BP is not alone. On Monday, Royal Dutch Shell, the biggest energy group in Europe announced that it will end its joint ventures with Gazprom and other companies. Other companies like Orsted and the Norwegian investment fund announced that they will exit their Russian stakes.
Analysts expect that BP will accomplish this by selling its stake in the company. While the stake is currently valued at about $14 billion, there is a likelihood that it will record a strong loss since Rosneft share price. Analysts expect that this stake will go to companies from China or Saudi Arabia.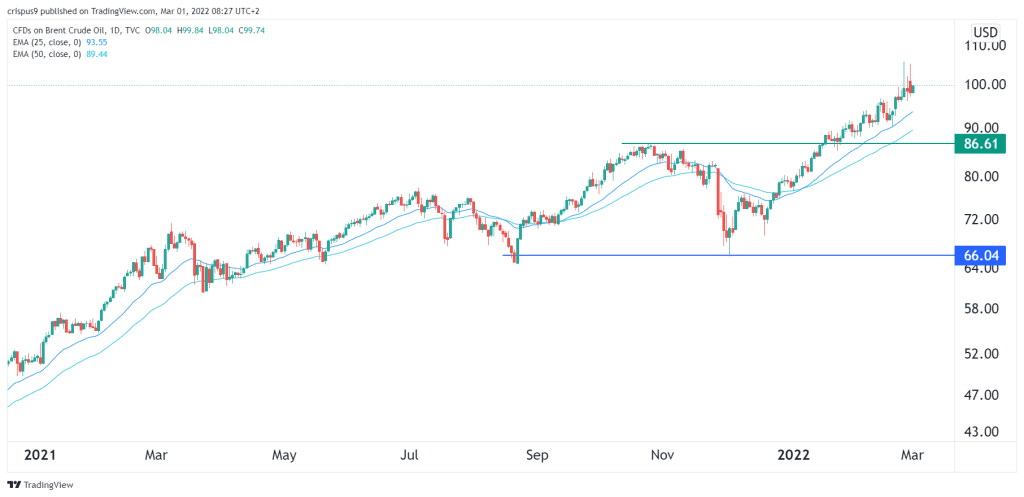 BP share price forecast
The daily chart shows that the BP stock price has been in a strong bearish trend in the past few days. It has fallen by about 13% from its highest point this year. As a result, the stock has moved below the upper side of the ascending channel. It has also moved below the 25-day and 50-day moving averages while oscillators have continued falling.
Therefore, there is a likelihood that the stock will keep falling as bears target the lower side of the channel at about 330p. In the long term, however, the BP share price will do well as the company benefits from the rising oil and gas prices.