The Boohoo share price continues to trade within the range formed by the rectangle on the daily chart, despite the 1.93% drop the stock has experienced as of writing. The decline further frustrates attempts by the bulls to move the stock beyond the 100p mark.
Currently, the stock is trading close to its 2016 levels. However, traders hope this will change if the market gets a boost from the recent opening of a new manufacturing facility in Leicester, United Kingdom. The new factory sits atop 23,000 square feet, and Boohoo boss John Lyttle says the facility brings a "bright future" for garment manufacturing in Leicester. The facility will also be used as a training centre for the company's product teams and will also host students and other groups interested in studying specific fashion skills. In addition, the facility will provide 180 local jobs.
The Boohoo group is hoping to use the facility to lift its public image, which was dented when a 2020 investigative report alleged that workers at the company's previous production facility earned low wages and had to work in appalling conditions. As a result, several brands dropped the company's products at the time, sending its stock lower.
Boohoo Share Price Outlook
Price direction will be determined by the direction of the price break from the current pattern. A break above 96.86 allows the bulls to aim for the 109.10 resistance (1 February high). Above this level, additional resistance is seen at the 128.50 and 144.96 (29 December 2021 high) price marks.
On the flip side, a decline below the 85.64 support level puts the Boohoo share price on course for a touchdown with 76.12. The 7 March low at 63.42 forms the next target to the south. Finally, the 15 June 2016 low found at 52.30 is yet another downside target which could form a new harvest point for the bears.
Boohoo: Daily Chart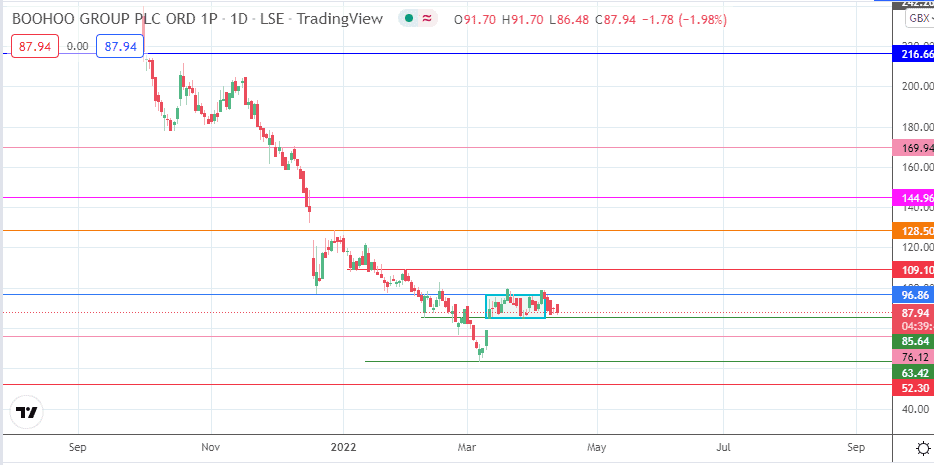 Follow Eno on Twitter.