UK shares are experiencing an increase in volatility due to conflicting economic data from the US. During this time, Boohoo share (LON: BOO) price remains stuck within a very narrow range. However, as forecasted in my previous analysis, there are strong chances of a reversal soon.
The FTSE 100 index is up 21 points on Monday as the UK equities inched higher. After a rebound at the end of Friday's trading session, Boohoo shares are up 1.69% today. The positive price action can be attributed to the expected decrease in inflation in the upcoming CPI report.
The UK Office for National Statistics (ONS) will release the September CPI data later this week. According to the latest Refinitive estimate, the YoY inflation is likely to drop to 6.5% in September from 6.7% in July.
While the decrease shows a continuity of a downtrend in inflation, it still remains far above the Bank of England's target of 2%. Due to the release of the CPI report, volatility in Boohoo share price may increase in the coming days. While the macroeconomics might not be favorable, technical analysis is still pointing towards a bounce in the share of the online fashion retailer.
It's quite incredible how the demand zone which I marked on the LON: BOO chart is still valid. Currently, the 30p-35p region is acting as an accumulation zone. If you are a long-term believer in Boohoo, then the current level may turn out to be a great long-term buying opportunity.
LON: BOO Technical Analysis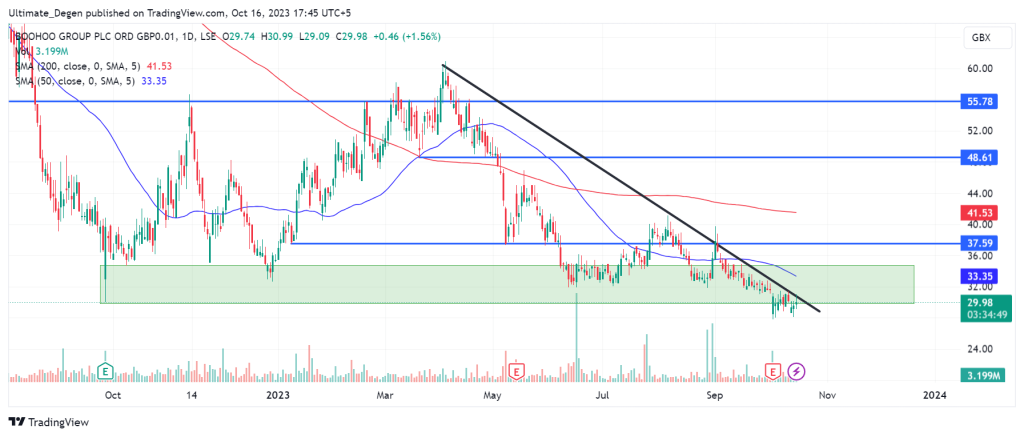 Boohoo Share Price Forecast
The Relative Strength Index (RSI) and the Money Flow Index (MFI) are one of the most widely used indicators in technical analysis. Both of these indicators are giving bullish divergences on the long and short-term timeframes. Such divergences often result in major trend reversals.
Due to multiple confluences, my Boohoo share price forecast is not bearish anymore. I was one of the only few analysts who accurately called for a trend reversal when the price was above 50p. Goldman Sachs has recently downgraded the stock to 'Sell' from 'Neutral', which might be too late as the stock has already tanked 50% since its yearly peak.