The Boohoo Share price sank 5.75% on Monday as investors shun the former rag-trade success story. Online fashion retailer Boohoo Group Plc (LON: BOO) is having a torrid 2021. BOO has lost almost half its value since the start of the year due to concerns over its business practices.
The share price was rocked earlier in the year as large-scale investors withdrew support following accusations of 'sweatshop' labour use at some of the companies suppliers. Despite Boohoo promising to rectify these mistakes and the overall business remaining buoyant, BOO continues to suffer. As a result, the Boohoo share price closed Monday within a whisker of a 19-month low and below significant trend support, which could set the stage for more liquidation.
BOO Price Analysis
The daily chart shows BOO closed below a long term rising trend line at 180.8p on Monday. If today's price action confirms the breakout, I would consider it highly bearish. In that event, the bears may target the 2020 pandemic low of 133.10p, around 25% below the current price.
However, many analysts consider the current valuation far too cheap. As my colleague pointed out last week, BOO is trading at a considerable discount to the consensus 12-month price forecast of 359p. On that basis, any sharp move lower may be met with bargain-hunters. Nonetheless, institutions are likely to stay away from Boohoo until they are sure it has cleaned up its act. Therefore, the share price may have further to fall in the immediate future.
Boohoo Share Price Chart (Daily)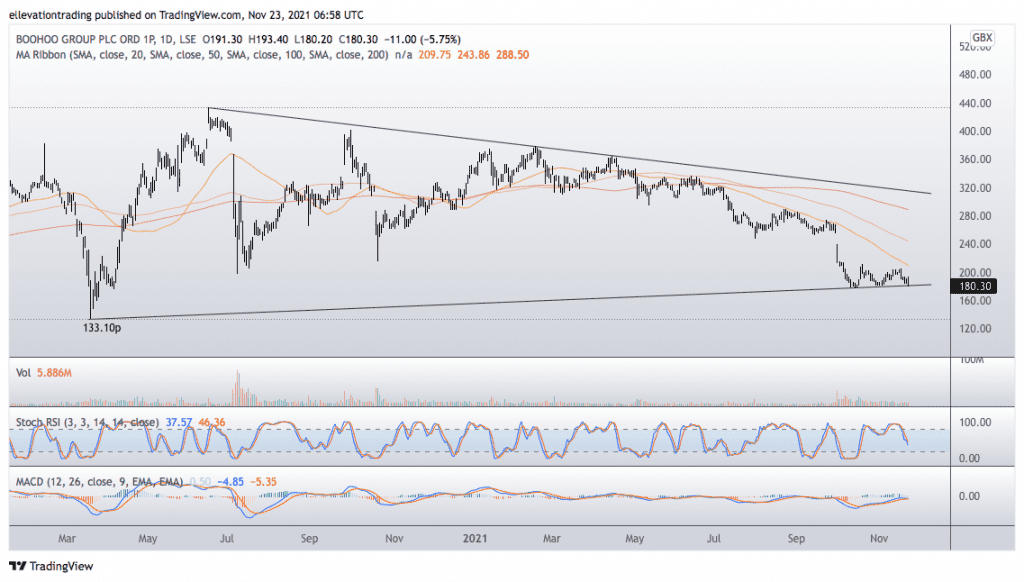 For more market insights, follow Elliott on Twitter.