The stock benefitted from the meme stock mania of 2021 and was catapulted from an end-of-year low of $0.52 in 2020 to a high of $15.69 in February 2021. Since then, the stock has dropped off these highs but remains well above its December 2020 low. BNGO provides proprietary technology for analyzing long segments of genomic DNA and other structural variations of biomolecules. These technologies include imaging instruments, software, reagents, and nanochannel chips.
BNGO Stock Forecast
The BNGO stock forecast is presented on the weekly chart. This chart shows that the breakdown of the 3.03 support led to the cascade that took the price to the 2.00 psychological support before a slight bounce halted the decline.
Price action remains in a downtrend, and with no solid BNGO stock news to support recovery, any rallies may turn out to be opportunities to sell. Wednesday's market selloff took the price below the 2.00 mark, and 1.45 appears to be the next downside target. A subsequent selloff puts this price support under pressure, with a breakdown bringing 0.42 into the picture. 
On the flip side, the BNGO stock price may see a recovery if the price breaks the descending trendline. Clearance of this trendline to the upside brings 5.05 into the mix as the immediate upside target. A further price advance brings in 6.25, with 8.15 and 9.99 serving as potential targets to the north. Clearance of the latter could signal a shift in sentiment to the bullish end of things.
BNGO: Weekly Chart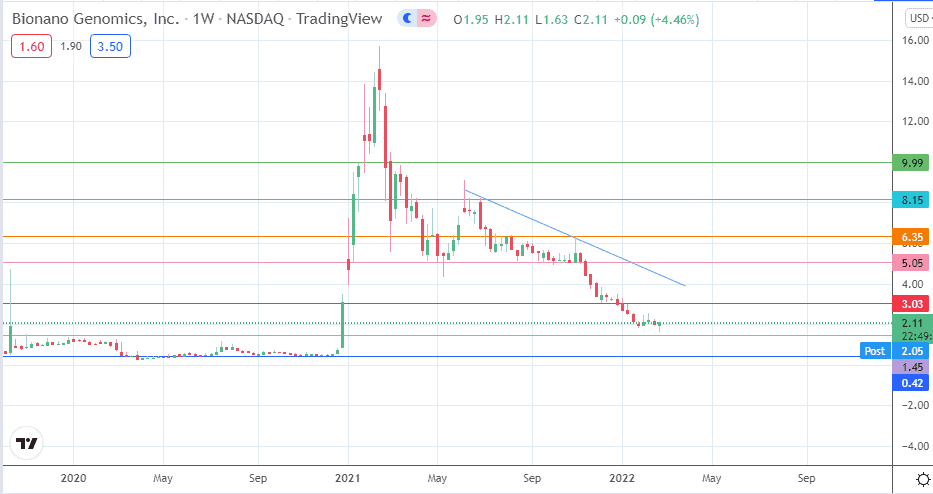 Follow Eno on Twitter.