Bitcoin's recent decoupling from US tech stocks poses a number of significant questions for investors. Throughout the post-pandemic boom, bitcoin and the rest of the cryptocurrency market moved more or less in tandem with US growth stocks.
Since the crisis in Ukraine, bitcoin seems to have broken free from the Nasdaq and is now looking to set a higher-high on the weekly timeframe for the first time since August of 2021. Google Trends data reveal that there has been a notable uptick in crypto-related search terms in Russia that runs counter to the global trend.
The chart below tracks Google searches in Russia for the keyword "cryptocurrency" from last June until now. As you can see, the recent peak, which took place in mid-to-late January, sees Russian searches equalling the previous peak in November, which coincides with bitcoins all time high.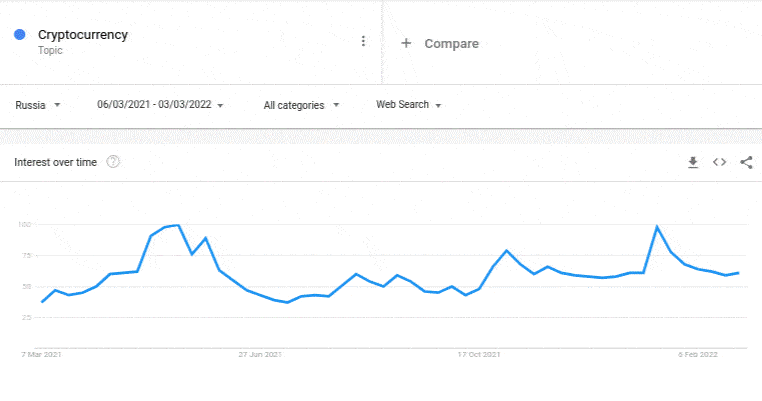 When looking at worldwide Google searches for the same term, "cryptocurrency", over the same period (below), we see that its popularity has been declining since November 2021, when bitcoin peaked at $68k and currently finds itself at the bottom of the range.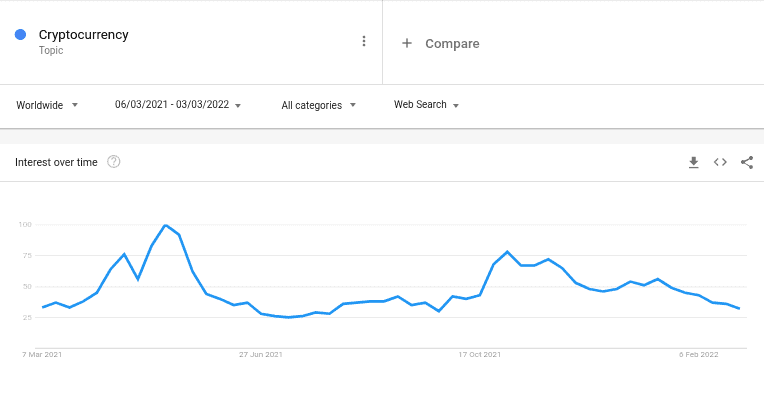 Granted, Google searches aren't the same as buy and sell orders, but they tend to closely follow the price action. The first chart above could very well be a bitcoin price chart.
It's important to mention that Ukrainian Google searches for the same thing over the same period look nothing like the Russian data. They more closely resemble the worldwide trend and then drop off substantially in February for obvious reasons.
Without going into the specifics around economic sanctions, capital flight, and how much Russian money it takes to move bitcoin's needle, it's important to start asking the following questions:
Is bitcoin's recent price action evidence that it's more than just a high beta risk asset?
Are people using it to do some of the things it was originally constructed for (avoiding capital controls, as a safe haven when fiat currencies plummet)?
Can gold or the US dollar do these same things as well as bitcoin?
Cryptocurrency CFDs are available for trading at HYCM, as well as an expansive range of instruments in various asset classes. Clients also have the ability to make a deposit or withdrawal in cryptocurrency.