With the Bitcoin price 30% below the ATH, we discuss whether the elusive $100k price target is possible in 2022.
Bitcoin (BTC) continues to consolidate between $45,500 and $50,000, as both sides of the trade anticipate the next big move. Whilst the momentum is undoubtedly negative, BTC is holding above $45,500. However, sellers are active on bounces, keeping the price below the 200-Day Moving Average. Nonetheless, BTC isn't exactly plummeting despite the technical breakdown. I suspect the main reason is that the weaker longs already threw the towel. Over $2 billion in leveraged longs were liquidated during the crash to $42,300 on December 4th, relieving the immediate pressure. Nonetheless, the Bitcoin price will likely bleed lower until a bullish catalyst arrives.
BTC Price Forecast 2022
Several catalysts could support a sustained bull market for Bitcoin next year. Firstly, institutions may view the current pullback as a reasonable long-term entry price. Furthermore, positions squared up ahead of year-end may be re-opened in early 2022. Another possibility is that new capital is allocated to cryptocurrencies when quarterly portfolio rebalancing occurs in the new year.
However, the macro backdrop supports lower prices in the near term. Central Banks (excluding Turkey) are moving towards tightening cycles, and the Omicron variant is spreading fast. The danger for risk assets is that raising rates in a slowing economy could negatively affect risk appetite. And in my opinion, the risks for BTC are skewed to the downside.
I expect the Bitcoin price will eventually fill the wick at $42,300 from December 4th and test the September lows around $39,600. An extension below $39,600 should encourage further liquidations, which could cause an exaggerated decline towards the summer lows between $28,000-$30,000. However, Bitcoins long-term fundamentals are intact, and therefore a correction below $40k could encourage long-term buying. On that basis, a sell-off could be short-lived.
I am bearish for Q1 2022 overall, anticipating an extension towards $30k. For that reason, I expect the bulls will have to wait for quite some time before achieving the $100k valuation.
However, if BTC recovers the former trend support at $54,400 and the 100-DMA at $54,525, the outlook improves. Therefore, a daily close above $54,525 invalidates the bearish thesis.
Bitcoin Price Chart (daily)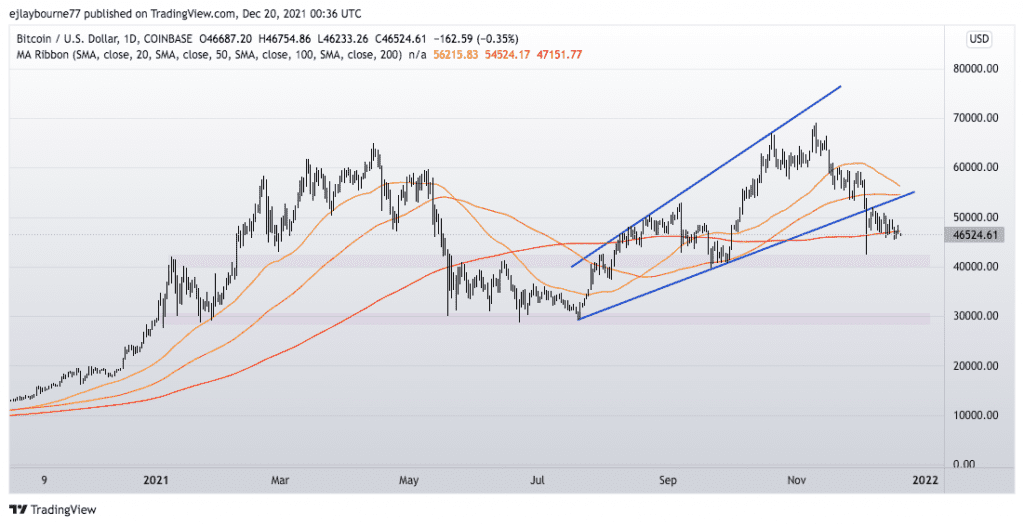 For more market insights, follow Elliott on Twitter.